Industrial Design (Honours) - 3386
Program Summary
Program Description
Program Objectives and Graduate Attributes
The Bachelor of Industrial Design Program provides academic education and practical experience leading to professional qualifications in industrial design. It requires full time attendance for four years. There are two central goals. The primary goal is to equip students with the theoretical and practical knowledge, skills and techniques needed for the design, documentation and administration of design and product development. The second more general goal is to provide students with an all-round problem-solving education. In achieving these goals students will be able to direct their skills in more specialist areas, such as marketing and design management, according to their particular interests. Core lectures and practical sessions cover theoretical knowledge in the following areas:
Industrial Design Studio
Design presentation (Computer aided and manual communication methods)
Technology (Materials and design for manufacture)
Marketing
Ergonomics
Design Management
Design History and Theory
Program Structure
BE Interdisciplinary Course* (6 UOC)
BE Interdisciplinary Course* (6 UOC)
FBE Elective (6 UOC)
Open Elective (6 UOC)
General Education (6UOC)
Open Elective (6 UOC)
General Education (6 UOC)
Students are required to choose 2 courses from the suite of Built Environment Interdisciplinary courses to complete a minimum of 12 UOC of BEIL courses.
General Education Requirements
Honours
Academic Rules
144 UOC of specified core courses, being all those prescribed in the faculty regulations for this program
12 UOC of FBE Electives from the list of BE Interdisciplinary Learning Courses
12 UOC of other FBE electives
12 units of open (free) electives, selected in accordance with the faculty regulations for undergraduate study in the Faculty of the Built Environment
12 units of General Education in accordance with University requirements

3. The standard duration of the program is 4 years consisting of 8 semesters of full-time study (24 units of credit per semester).
Fees
Career Information
Product designer within a design consultancy
Product designer within a multi-disciplinary design team (architectural and engineering consultancies)
Product designer within the manufacturing sector (consumer and public access products, electrical, transport, scientific, medical, retail, furniture, telecommunications)
Digital multimedia designer
Product branding and marketing
Packaging designer
Exhibition designer
Graphic designer
Professional Recognition
The Degree of Bachelor of Industrial Design from the University of New South Wales is recognised by the Design Institute of Australia.
Area(s) of Specialisation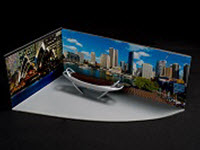 &nbsp