Global Sustainab & Social Ent - COMMFS8404
Stream Summary
Stream Outline
In a complex and interconnected global business environment, business professionals are faced with ever-changing challenges and opportunities. Global Sustainability and Social Enterprise provides current and future managers with business knowledge, skills, and frameworks for thinking to make the most of these challenges and opportunities, and enable the generation of sustainable value for business and society at large. Centred on the creation of sustainable value for business and society at large, sustainability has become a key concern of business as organisations work to contribute to social, economic and environmental sustainability through their strategies and practices. Social enterprise captures the new ways in which businesses are working together with governments and civil society to create positive social outcomes through design, organisational structure, and processes of distribution. This specialisation will equip students with the business knowledge and skills for ensuring sustainable success in the 21st century global economy. It offers a genuinely interdisciplinary approach to the crucial issues of sustainability and social purpose, drawing on fast moving and rapidly expanding fields of knowledge and practice.
Stream Structure
Compulsory Core course:
One Data Analysis Core course:
One Compulsory Gateway Course:
Two Elective Gateway courses from the following:
Three Required Specialisation courses:
Two Elective Specialisation Courses from the following:
One additional Elective Course: (For MCom) Students may choose an additional course from the above list of Elective Specialisation Courses to add depth to their learning or may take another course from the MCom (subject to prerequisite requirements being met).
One Capstone course:
This capstone provides a practicum experience in a work-relevant context for students enrolled in this specialisation
Further Information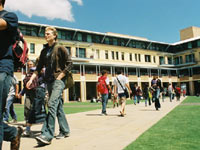 &nbsp