Economics / Education (Sec) - 4058
Program Summary
Program Description
Program Objectives and Graduate Attributes
The program objectives for the Bachelor of Economics component of the dual degree are as follows:
Demonstrate understanding and application of economic concepts and processes
Demonstrate critical thinking and problem solving skills
Understand, analyse and use quantitative data to assist in making economic and business decisions
Present complex issues in coherent written statements and oral presentations
Demonstrate understanding of the global economic context in which business and governments operate
Understand the social and ethical dimensions in their chosen disciplinary areas.
Program Learning Outcomes
You should achieve the following Program Learning Outcomes upon successful completion of the Bachelor of Education (Secondary):
Know students and how they learn
Know the content and how to teach it
Plan for and implement effective teaching and learning
Create and maintain supportive and safe learning environments
Assess, provide feedback and report on student learning
Engage in professional learning
Engage professionally with colleagues, parents/carers and the community.
Program Structure
The requirements for the Bachelor of Education component of the dual degree (96 UOC) are:
Education Core (66 UOC)
Prescribed Education methods (24 UOC)
Prescribed Education elective (6 UOC)
The Education Core courses comprise:
EDST2002, EDST6760 and EDST6765 provide students with a total of 80 days of professional experience in secondary schools and other educational settings.
The Prescribed Education Methods comprise:
The Prescribed Education Elective comprises one of the following courses:
Proficiency in English is essential in all courses that form a part of the Bachelor of Education (Secondary) component of the dual degree. It is expected that all applicants will have a Higher School Certificate minimum Band 5 in Standard English, English as a Second Language or Advanced English, or an overall IELTS score of 7.5, with a minimum of 8.0 in Speaking and Listening and a minimum of 7.0 in Reading and Writing, or the equivalent.
The National Literacy and Numeracy Test for Initial Teacher Education.
The Classroom Readiness Questionnaire. The Classroom Readiness Questionnaire is a pre-professional experience self-assessment tool that requires students to provide evidence of success across six areas (subject content, inherent requirements, professional language/literacy/numeracy, oral communication, classroom management, and commitment to the profession). Their self-assessments are then endorsed (or not) by at least two staff members who teach them.
A situational judgement test. This test is a scenario-based measurement tool designed to assess individuals' judgement in a contextualised workplace setting. This test evaluates a number of key non-academic capabilities deemed necessary for teaching (e.g., adaptability, empathy).
We also undertake extensive evaluation of teacher suitability for their specific teaching areas. We do this via: (a) including a compulsory microteaching assessment in Methods courses, (b) using direct observation of all professional experience placements, including the first semester placement as a teaching assistant, (c) multiple critical assessment tasks, (d) a teaching performance assessment, and (e) a set of inherent requirements used by a range of UNSW teacher education providers. We continually monitor and evaluate the relationship between these measures, the performance during professional experience, and graduate outcomes, including level of self-efficacy.
You are eligible for the award of your Pass Degree "with Distinction" if you achieve a Weighted Average Mark (WAM) of at least 75 in all courses and complete at least 50% of the requirements of your award at UNSW.
Academic Rules
To qualify for the award of the degree at Pass level, a student must:
enrol in the Bachelor of Education (Secondary) in Dual mode and complete 96 UOC;
complete the method requirements for one or two areas of teaching specialisation
complete at least 30 UOC of Level 1 courses before enrolling in Level 2 courses
complete at least 30 UOC of Level 2 courses before enrolling in Level 3 courses
Compulsory Economics course (6 UOC)
Economics Major requirements (60 UOC)
Economics Electives (12 UOC)
UNSW Business School First-Year Elective (6 UOC)
UNSW Business School Electives (12 UOC)
You are required to complete at least 13 Economics courses including:
You are required to complete 3 Business School courses:
In order to satisfy the requirements for teacher accreditation you must use two of the three required business courses (first year business requirement plus two electives) to take at least one accounting or finance course and one unit of business management. This can be accomplished, for example, by taking ACCT1501 or FINS1613 to fulfil the first-year requirement, and choosing MGMT1001 as one of the two business electives.
There are courses in the School of Mathematics and Statistics (Faculty of Science) and the School of Actuarial Studies (Business School) that are alternatives for the quantitative methods courses in Economics: ECON1202 and ECON1203. Therefore:
Any one of the following courses is an acceptable substitute for ECON1202: MATH1031 or MATH1131 or MATH1141 or MATH1151.
Any one of the following courses is an acceptable substitute for ECON1203: MATH1041 or MATH2089 or MATH2099 or MATH2801 or MATH2841 or MATH2901 or ACTL2002 or ACTL2131.
Fees
Important Information
The Academic Rules for the UNSW BEc BEd (Secondary) and the online enrolment facility provide students with a wide range of course choices. The online enrolment facility checks that students meet the enrolment requirements for individual courses but not that a course complies with Program Rules. Students are responsible for ensuring they are enrolling in accordance with the Academic Rules outlined above. Students should not assume that because they have enrolled in a course online that the course is automatically credited to their degree program.
Further Information
Glossary of Terms
Area(s) of Specialisation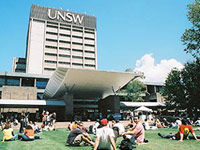 &nbsp