Commerce / Aviation (Mgmt) - 3835
Program Summary
Program Description
Program Objectives and Graduate Attributes
demonstrate business knowledge and apply that knowledge in business problems
demonstrate critical thinking and problem solving skills
present complex issues in coherent written statements and oral presentations
demonstrate understanding of disciplinary issues in a local or global context
demonstrate understanding of the principles of working collaboratively in teams
understand the social and ethical dimensions in their chosen disciplinary areas
Program Structure
Compulsory core courses (24 UOC)
Flexible core courses (24 UOC)
A business Major (48 UOC)
Compulsory core courses in Aviation (Management) (60 UOC)
Aviation (Management) electives (36 UOC)
Combined total of all Aviation Management electives over Stage 1, 2 and 3 must add up to 36 UOC
Students are expected to take lower stage courses in preference to higher stage courses in order to complete lower stage program requirements as soon as possible, i.e. stage 1 courses should be completed prior to stage 2 courses. Stages of courses are identified by the first number in the course code, ie AVIA1321 is a stage 1 course.
Students can take a maximum of 90 UOC of level 1 courses in the dual program – 60 UOC of level 1 for the Bachelor of Commerce and 30 UOC level 1 for the Bachelor of Aviation (Management).
Students completing a major in Management or Human Resource Management as part of their Bachelor of Commerce program cannot take MGMT2721 as an elective in the Aviation (Management) program. These students will need to choose an alternative Aviation stage 2 elective.
As there is greater flexibility in core course offerings by the UNSW Business School, students should consider prioritising their core Aviation (Management) courses when planning their enrolment each semester.
Honours
Academic Rules
Fees
Further Information
Related Program(s)
3502 Commerce
3521 Commerce/Economics
3573 Commerce / Arts
3523 Commerce/Science(AdvMath)
3529 Commerce/Science
3554 Commerce (Co-op)
3584 Commerce / Information Systems
3559 Commerce/Media (PR & Advert)
3584 Commerce / Information Systems
3967 Commerce / Computer Science
Area(s) of Specialisation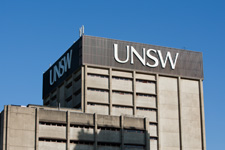 &nbsp