Human Resource Management - MGMTH13938
Stream Summary
Stream Outline
This plan is for students wishing to undertake a major sequence in Human Resource Management (HRM).

Specialisation in human resource management provides a strong practical and theoretical grounding in the policies and processes involved in the management of people at work. In a climate of rapid economic change, effective labour management is being seen as a critical component of the operation and strategic planning of both private firms and public sector organisations.
Stream Structure
A major in Human Resource Management consists of 48 UOC (8 courses). Five (5) of these courses are specified; the other three (3) are elective courses that are chosen from the list below. At least two (2) of the electives chosen must be at level 3 (i.e. MGMT3XXX). This is regardless of whether you are doing a single major or taking Human Resource Management as a second major
A minor in Human Resource Management consists of 30 UOC of the following courses: MGMT1001, MGMT1002, MGMT2705, MGMT2718, MGMT3701.
Compulsory courses
Elective courses
** Only one of these courses may be counted towards the major.
Additional Information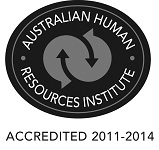 &nbsp