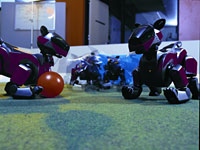 Computer Science involves the study of computational systems, and encompasses the fundamental areas of algorithms, networks, databases, graphics and artificial intelligence.

Computer Science graduates are employed as application programmers, user support (identifying problems and potential solutions) or system analysts, database administrators.

The major areas of Computer Science are:
Software engineering methodologies
Database design and implementation
Operating systems and computer networks
Microprocessor-based systems
Computer graphics, artificial intelligence and robotics
Human computer interaction
Studying Computer Science at UNSW
The study of Computer Science at UNSW is primarily through the School of Computer Science and Engineering (
www.cse.unsw.edu.au
) which offers a number of undergraduate programs of study (please refer to the tables below and
Computer Engineering specialisation
for other related programs/ plans). It is also possible to study Computer Science within a combined degree program. The School also offers honours, postgraduate, and research programs.
Computer Science can be studied as