Commerce (Honours) - 4501
Program Summary
Faculty: UNSW Business School
Contact: UNSW Business School Student Centre
Campus: Sydney
Career: Undergraduate
Typical Duration: 1 Years

Typical UOC Per Semester: 24
Min UOC Per Semester: 6
Max UOC Per Semester: 24
Min UOC For Award: 48
Domestic Entry Requirements: See Domestic Entry Requirements
International Entry Requirements: See International Entry Requirements
Award(s):
Bachelor of Commerce (Honours)
View program information for previous years
Program Description
The handbook provides you with information on the degree structure you would need to follow for the year you commence your study.

If you are a prospective student researching your study options, please visit UNSW Business School website for more information.
The
Bachelor of Commerce (Honours)
is a one year advanced undergraduate degree for high-achieving students which may be undertaken upon completion of an undergraduate pass degree. A student undertaking this program will normally complete honours within the business specialisation (major) of their pass degree.
The Bachelor of Commerce (Honours) program enables students to expand and deepen their understanding of this discipline and develop highly sought after analytical, problem solving and research skills through undertaking a significant independent research thesis. The program may be a pathway into a PhD. Honours may be completed within the disciplines of accounting, finance, human resource management, information systems, international business, management or marketing.
Program Benefits
Competitive advantage, increased employability, attractiveness and worth resulting in more career options - either in academia, business, government or applied research through gaining:
advanced analytical and problem solving skills required for specialist careers in business and government
highly sought after research, project management and communication skills in as well as advanced knowledge of the relevant discipline.
Program Objectives and Graduate Attributes
On completion of the Bachelor of Commerce (Honours) students will have the ability to:
apply a highly developed understanding of the theoretical concepts and body of knowledge in one or more disciplines to address a research topic.
reflect critically on existing knowledge, ideas and practice with the relevant field to address a research topic
plan and execute a piece of research with some independence.
communicate research ideas effectively in oral presentations and in writing.
Program Structure
The Bachelor of Commerce (Honours) is a 48 UOC degree normally completed over 1 year of study (or part-time equivalent). The 48 UOC consists of:
24UOC (4 courses) of advanced coursework in the relevant discipline
24 UOC thesis.
Coursework
(24 UOC)
The specific courses and number of courses to be completed are dependent on the relevant discipline of the Honours. For details of these courses, please refer to the relevant discipline Honours plan.
Thesis
(24 UOC)
The thesis is an independent piece of research which may be empirical or conceptual in nature (in line with traditional research modes in the relevant discipline) and will be worth 24 UOC. The thesis is completed under the supervision of academic(s) within the relevant disiplinary School.
In addition to the written thesis, students will be required to give an oral presentation in which they will outline and defend their thesis proposal or their finished research to a group of their peers and relevant School academics.
The thesis will be marked by two independent examiners who are appointed by the discipline Honours Co-ordinator in consultation with the HoS / School Honours Committee. The final thesis mark will normally be the average of the examiners' recommendations.
Honours Mark and Classes of Honours
The Honours mark for the awarding of the class of Honours is based all components of the program, with weighting of 50% coursework and 50% thesis in line with their UOC.
Honours will be awarded in the following classes:
• Class 1: WAM of 85 and over
• Class 2(1): WAM of 75 to less than 85
• Class 2(2): WAM of 65 to less than 75
• Class 3: WAM of 50 to less than 65
University Medal
An honours student may be nominated for a University Medal in line with the
University Medal Policy
and
University Medal Procedure.
Academic Rules
To be awarded the degree, the BCom(Hons) program must contain:

1. A minimum of 48 units of credit (UOC).
2. A minimum of 24 UOC of coursework
3. A 24 UOC of thesis.

Progression rules:

4. Students are to maintain a course average of 70 or more (and satisfactorily pass any Pass/Fail courses) to continue in the Honours program after the end of their first session.
Fees
For information regarding fees for UNSW programs, please refer to the following website:
UNSW Fee Website.
Entry Requirements
To be admitted into the Bachelor of Commerce (Honours) program, a student must have completed a pass degree, normally a business-related degree, or equivalent, with a business major in the desired honours discipline (namely accounting, finance, marketing, or information systems). A student in a dual degree may gain entry to the Bachelor of Commerce (Honours) prior to completing the requirements for the dual degree program if they have completed 144 UOC, including 48 UoC in the Bachelor of Commerce compulsory and flexible core courses and all requirements for the relevant major. Students who have completed a non-business degree with a major in one of the specified business areas, or a specified cognate area, may be eligible to complete honours within this program. Disciplines may also have particular pre-requisite requirements for entry into honours. Please refer to the specific discipline Honours plan for exact details.

A student must have an overall Weighted Average Mark (WAM) of at least 70 (or equivalent) with a discipline/major WAM of at least 70. Due to the academic requirements of some disciplines and the competitive nature of honours places, the WAM required for entry may be higher in some disciplines. Students who have failed a course within their pass degree will not normally gain entry to the Bachelor of Commerce (Honours) program. Please refer to the relevant discipline Honours plan for exact details.

The availability and willingness of a supervisor to work with the candidate is another important criterion for successful admission to the program. The number of students accepted to the Bachelor of Commerce (Honours) in a particular discipline is dependent on the availability of supervisors in that discipline. If there are more applicants than a discipline can accommodate, admission will be determined according to students' academic merit. Hence meeting the academic requirements of the program does not guarantee a place in the program.

Not all disciplines may accept students mid-year or on a part-time basis due the sequencing of the coursework.
How to Apply
All (internal and external) students intending to apply to the Honours programs must first discuss their eligibility and study program with the Honours Coordinator in the relevant discipline prior to submitting an application.
Disciplines may require the student to submit a draft proposal at the time of application.
All honours applicants, both domestic and international, apply for the disciplinary honours program via
www.apply.unsw.edu.au
providing the documentation required.
Further Information
Related Program(s)
3502 Commerce
Area(s) of Specialisation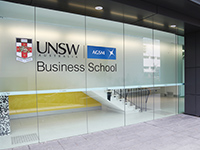 &nbsp