Social Work (Honours) / Arts - 4043
Program Summary
Program Description
Program Objectives and Graduate Attributes
Program Structure
The basic requirements for the degree in Dual mode (168 UOC) are:
Program Core (162 UOC)
General Education (6 UOC)
enrol in the Bachelor of Social Work and complete 168 UOC;
complete the core requirements
complete 6 UOC of General Education
A home major stream (54 UOC)
A minor stream (36 UOC)
General education (6 UOC)
Academic Rules
To qualify for the award of the Bachelor of Arts at Pass level, a student must:
enrol in the Bachelor of Arts and complete 96 UOC;
complete the requirements for one home major stream
complete the requirements for one minor stream
complete 6 UOC of general education
complete at least 30 UOC of Level 1 courses before enrolling in Level 2 courses
specify their major(s)/minor at the time of enrolment into Level 2
complete at least 24 UOC in their major/minor before enrolling in Level 3 courses
complete 72 UOC overall before enrolling in their Major stream(s) Capstone course
Fees
Important Information
The Academic Rules for the BSW Hons BA and the online enrolment facility provide students with a wide range of course choices. The online enrolment facility checks that students meet the enrolment requirements for individual courses but not that a course complies with Program Rules. Students are responsible for ensuring they are enrolling in accordance with the Academic Rules outlined above. Students should not assume that because they have enrolled in a course online that the course is automatically credited to their degree program.
Further Information
Glossary of Terms
Area(s) of Specialisation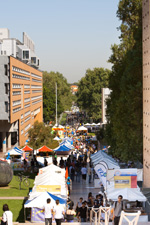 &nbsp