Electrical Eng/Biomed Eng - 3727
Program Summary
Program Description
Program Objectives and Graduate Attributes
Program Structure
The program structure listed is the preferred course sequence however variations are possible provided that approval has been given by the undergraduate or postgraduate authority.
ENG1811 is an acceptable alternative for COMP1911
Not all courses are offered in both sessions but students should complete 24 UOC in each session.
COMP1921 and ELEC1111 must both be taken during the first 2 years of the program.
Elective (L3 or L4) (6UOC)
BIOM9000 Electives (12UOC)
Elective (L4 ) (12UOC)
BIOM9000 elective (12UOC)
OR
BIOM9000 electives (12UOC)
General Education Requirements
Academic Rules
Fees
Professional Recognition
The Institution of Engineers, Australia, recognises the Bachelor of Engineering components of the BE/MBiomedE courses as meeting the examination requirements for admission to graduate and corporate membership. In addition, examination requirements are met for membership of the Institution's College of Biomedical Engineering. The degrees are accorded substantial or complete recognition by overseas engineering institutions.
Area(s) of Specialisation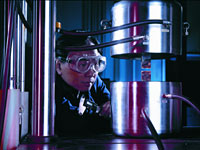 &nbsp