Interior Architecture - 3255
Program Summary
Faculty: Built Environment
Contact: Built Environment
Campus: Sydney
Career: Undergraduate
Typical Duration: 4 Years
Typical UOC Per Semester: 24
Min UOC Per Semester: 3
Max UOC Per Semester: 27
Min UOC For Award: 192
UAC Code: 423003
ATAR: 88.05

International Entry Requirements: See International Entry Requirements
Award(s):
Bachelor of Interior Architecture (Major)
Information valid for students commencing 2013.
Students who commenced prior to 2013 should go to the Handbook's Previous Editions
Program Description
Pre 2013 students will be following the new program structure and rules. Students should contact the Built Environment Student Centre for further information.
Program Summary
Interior Architecture at UNSW is positioned as a research-led creative practice which focuses on the design and agency of the inhabited interiors of the built environment, from the scale of the room to the scale of the city, from permanent to temporary spaces.

Our agenda is to imagine, debate and test the contemporary interior as a key agent in the production of the built environment. We consider the interior as a dynamic and open-ended conceptual space through which the human scale and experiences inherent in the private and public spaces of our urban environments can be interrogated and projected.

Through a focus on material and spatial assembly, agency and affect, we foster an agile and critical approach to design enquiry, underpinned by an informed appreciation of the environmental, cultural and historic contexts of interior architecture and design. We value an expansive approach in the speculation and projection of the contemporary interior, underpinned by rigour and creative risk taking.

Our goal is to produce industry leaders with the ethical, collaborative and creative skills that will allow them to effectively respond to the multi-disciplinary, global demands inherent in the reshaping of our future interiorscapes.
Program Objectives and Graduate Attributes
BIA graduates will be:

Scholars who are:

• understanding of the material and spatial assembly, agency and affect of interior environments
• understanding of the discipline of Interior Architecture in its environmental, cultural, historical and interdisciplinary context
• capable of independent and collaborative research-led design enquiry underpinned by rigorous analysis, critique and reflection
• able to apply their knowledge and skills to solving design problems
• ethical design practitioners
• capable of effective communication

Leaders who are:

• enterprising, innovative and creative
• capable of initiating as well as embracing change
• collaborative team workers

Professionals who are:

• capable of independent, self-directed practice
• capable of lifelong learning

Global Citizens who are:

• capable of applying the discipline of Interior Architecture in local, national and international contexts
• culturally aware and capable of respecting diversity and acting in socially just/responsible ways
• capable of environmental responsibility
Program Structure
Year 1

Semester 1
Semester 2
Year 2

Semester 1
Semester 2
General Education (6 UOC)
Year 3

Semester 1
General Education (6UOC)
Interdisciplinary Learning Course* (6 UOC)
Semester 2
Interdisciplinary Learning Course* (6 UOC)
Year 4

Semester 1
Open Elective (6 UOC)
BE Elective (6UOC)
Semester 2
Open Elective (6 UOC)
BE Elective (6UOC)
*Note: The 12UOC of Interdisciplinary Learning Courses can be undertaken at any stage from the end of Year 2 to the end of Year 4 including summer terms.

Additionally, students are not required to undertake the other elective and general educaton requirments in the exact order as indicated in the above program structure. This structure provides a suggested order for the completion of these elective and general education requirements, however a student can choose to do them in a different sequence. For example, a student may choose to complete an FBE elective in S1 of Yr 3 and undertake the 6 UOC of general education in Yr 4.

An indicative list of Interdisciplinary Learning Courses is below:
Students would choose 2 courses from the suite of offerings to total a minimum of 12UoC in interdisciplinary studies.

Embedding Interdisciplinary Education within programs is part of a wider Faculty curriculum development and program review process, it is the intent that the list of interdisciplinary learning courses will be expanded as new interdisciplinary courses are developed.
Honours
The Bachelor of Interior Architecture degree may be awarded with honours based upon the quality of performance in the program and in accordance with current program policy. Honours are Class 1 or Class 2 Division 1 or Class 2 Division 2.
Academic Rules
1. The degree of Bachelor of Interior Architecture is awarded at either Pass or Honours level after the successful completion of a minimum of 192 units of credit.

2. To fulfil these requirements, students must complete:
144 units of core courses, being all those prescribed in the Faculty regulations for this program
12 units of BE Electives (see below)
12 units of Interdisciplinary Learning Courses (as listed above)
12 units of Open (free) Electives, selected in accordance with the Faculty regulations for undergraduate study in the Faculty of the Built Environment (see below)
12 units of General Education courses in accordance with University requirements -Refer to: General Education
3. The standard duration of the program is 4 years consisting of 8 semesters of full-time study (24 units of credit per semester).

4. General Education courses may not be taken before a student enters Year 2 of the Program.
Open (free) Electives
Open electives can be chosen from any courses offered by any Faculty at UNSW for which the student meets pre-requisite or other enrolment requirments. The exceptions are those specific General Education GEN prefix courses which cannot be counted as open electives. Open electives do not need to be taken outside the Faculty, students can choose FBE electives as open electiives.
BE Electives
BE Electives are elective courses offered by the Faculty and are generally denoted by a BENV prefix. Electives from outside the Faculty cannot be counted as BE electives.
Fees
Professional Recognition
The UNSW degree of Bachelor of Interior Architecture is recognised by the Design Institute of Australia (DIA - the professional body representing Interior Architecture/Interior Design in Australia) and the International Federation of Interior Architects (IFI). Students enrolled in the program are eligible to apply for Student membership of the DIA and Associate membership upon graduation. Full membership requires two years of approved professional experience after graduation.

The BIA program at UNSW is also a member of IDEA (Interior Design/Interior Architecture Educators Association) representing all 4 year university degree programs in the discipline in the region.
Area(s) of Specialisation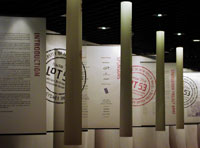 &nbsp