Food Science and Nutrition - FOODKH3061
Stream Summary
Stream Outline
This stream extends over four years and students study full-time during the day for twenty-four weeks of each year (excluding examination and recess periods).

An academic member of staff in the School of Chemical Engineering, as designated by the Head of School, may approve various program patterns involving full-time or part-time study.
Stream Structure
The stream structure below gives one sequence of courses that fulfils the requirements of the major. However, many courses are offered only once per year and others have pre-requisites or exclusions which govern the order in which they can be taken. Both of these things can have a big impact on enrolment planning if poor choices of course combinations are made. Students are strongly encouraged to consult the
School website
for advice on course sequences that are consistent with timetabling and availability.
The timing of the general education courses and elective courses may be modified to optimise the student's choice of courses. It is the students responsibility to plan their enrolments appropriately.
NOTE:
It is
VERY IMPORTANT
to check recommended course sequences as explained under Stream Structure.
Year 1
Choose ONE of:
And ONE of:
Year 2
Plus choose ONE of:
And ONE of:
Year 3
Year 4
Professional Elective (6 UOC)
Professional Electives
Note that not all of the courses in this list are available every year.

A one semester "Thesis in Industry" option is available to selected students by invitation only.

Further Requirements

Students are expected to possess a calculator having exponential capabilities, however, more advanced calculators and personal computers, will be found useful.

Professional Recognition

Graduates of the BSc (Hons) in Food Science and Nutrition degree program are eligible to apply for membership of the Australian Institute of Food Science and Technology (AIFST) and of the Nutrition Society of Australia (NSA).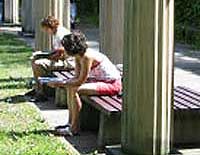 &nbsp