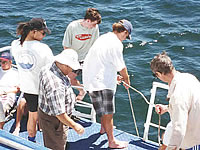 Description

An introduction to the physical properties and circulation of the oceans. The geography of the sea and properties of seawater. Understanding what controls coastal ocean currents, water-mass formation, upwelling, storm surges and large-scale ocean flow. The dynamics of a range of ocean processes, including waves, tides, beach currents and the El-Nino/Southern Oscillation. Oceanographic instrumentation and the design of ocean measuring programs.

Note: Laboratory and field work.

Assumed knowledge: Any 6 Units of Credit of Level I Mathematics.