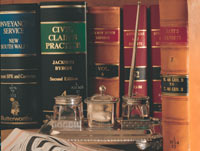 Description

This advanced level course offers students the opportunity to study some contentious areas of interest, debate and policy development within intellectual property law (e.g. trade mark counterfeiting and copyright piracy; the interplay of marketing, branding and trade marks; issues surrounding bio-prospecting and ownership of genetic material; and access to essential medicines), as well as introducing practical issues graduates are likely to confront if they practice in the area (such as franchising; portfolio management; criminal offences; registration practice and strategies; parallel importation; geographical indications).

The course provides a solid general knowledge of relevant issues and skills for students wishing to practice in intellectual property law, and a good grounding in intellectual property research for students considering postgraduate studies in this area.
Recommended Prior Knowledge

Co-requisite: LAWS2021 Industrial & Intellectual Property or LAWS3021 Foundations of Intellectual Property Law or LAWS8017/JURD7617 Intellectual Property Law
Objectives

A candidate who has successfully completed this course should be able to:
Identify, understand and confidently discuss issues related to the advanced intellectual property topics included in the course;
Locate, analyse and critique primary and secondary sources of intellectual property law at an advanced level;
Locate practical intellectual property problems in their political and theoretical contexts, and argue persuasively for and against the main positions taken with respect to the contentious intellectual property issues contained in this course.
Locate practical intellectual property issues in their commercial contexts and consider non-legal alternatives, and ramifications of various courses of action.
Demonstrate a working knowledge of key intellectual property practice skills (such as research skills; due diligence for portfolio management);
Understand basic intellectual property practice strategies, incuding the benefits and limitations of approaching intellectual property problems through traditional legal processes and other dispute resolution methods.
Main Topics

Intellectual Property theory and the legal application of conceptual issues in intellectual property law (e.g. copyright's concepts of authorship/originality/idea-expression dichotomy/substantiality);
Politics of Intellectual Property (Australian and global)
Indigenous 'intellectual property' systems and alternatives to contemporary international (TRIPS based) intellectual property standards (e.g. Open Source software models)
Intellectual propertization: How far should the expansion of intellectual property laws go?
Enforcement issues: Trade mark counterfeiting and copyright piracy; criminal offences in intellectual property law (incl. Australian Customs procedures);
Intellectual property, marketing and branding practice (including character merchandising and personality rights)
Intellectual property, bio-prospecting and owning life
Intellectual Property and Access to Essential Medicines
Interdisciplinary approaches to intellectual property (e.g. marketing, sociological, economics)
Contract law in intellectual property practice; Licensing Agreements (incl. compulsory licensing and technology transfer), Copyright Permissions & Franchising;
Intellectual Property Portfolio management;
Trade mark Registration practice and procedure (incl. registration strategies); Overview of patent registration practice and procedure (including drafting/interpreting claims/specifications);
Parallel importation and Exhaustion in Australian and international copyright and trademark law;
Geographical Indications and related law;
Adopting integrated Intellectual Property Strategies pre- and post- dispute (incl. Copyright/Designs Overlap; litigating trade mark law alongside passing off and s.52 TPA actions).
Teachers:

Alexandra George, School of Law, UNSW
Assessment

500 word synopsis/outline of research essay - 10%

5,000 word research essay - 70% (90% if not counting CP)

Class participation - 20% (Opt-in, maximisable)
Course Texts

Required:
Access to a current textbook on Australian intellectual property law. For example:

- S. Ricketson, M. Richardson and M Davison, Intellectual Property: Cases, Materials and Commentary (4rd ed) (Sydney: LexisNexis Butterworths, 2009)

- M. Davison, A. Monotti and L. Wiseman, Australian Intellectual Property Law (Melbourne: Cambridge University Press, 2008)

Readings made available online.
These materials will include excerpts from a number of sources including practitioner texts (which students may not otherwise have easy access to); Australian and international primary sources of law concerning criminal enforcement of intellectual property, parallel importations and geographical indications; and articles and excerpts from monographs and court documents (which may include pleadings, written submissions and judgments) addressing issues such as authorship and originality in copyright law. They will also include articles, and excerpts from monographs and primary legal sources to offer students a variety of perspectives on the policy issues covered in the course.
Resources

Refer to the course outline which will be provided by the lecturer at the beginning of the relevant semester.