Forensic Mental Health - 9012
Program Summary
Faculty: Faculty of Medicine
Contact: forensicmentalhealth.med.unsw.edu.au
Campus: Sydney
Career: Postgraduate
Typical Duration: 1 Years

Typical UOC Per Semester: 12
Min UOC Per Semester: 6
Max UOC Per Semester: 27
Min UOC For Award: 48
View program information for previous years
Program Description
External overseas students are allowed to enrol.
----------------------------------------------------------------------

The Master of forensic Mental Health MFMH9012 provides an opportunity for a comprehensive training in forensic mental health. It covers the theoretical and practical aspects of criminal, civil, child and family forensic mental health sub specialities. It is undertaken on a part-time two year basis. The MFMH9012 is designed for mental health professionals including medical practitioners, nurses, psychologists, social workers and occupational therapists. The program is also open for members of the legal profession, corrections, police and criminologists. The MFMH9012 program is taught by distance delivery and provides video lectures, online forums and online activities.
Program Objectives and Graduate Attributes
The program aims to provide specialised levels of expertise in the clinical and legal aspects of Law and Forensic Mental Health to an emerging skilled multidisciplinary workforce. The program draws upon the existing body of leading expertise in law, medicine and nursing, and the rich clinical resources of the Justice Health Long Bay Matraville complex which includes the high secure Forensic Hospital. The MFMH9012 program is fully distance with online video lectures, quizzes, activities and forums.
Program Structure
The Masters of Forensic Mental Health will be awarded on completion of 48 units of credit (UOC). Students must complete 24 UOC in core courses, and 24 UOC of electives offered by the School of Psychiatry.
Candidates without a clinical background are required to undertake the following course in place of one elective:
Elective courses:
Academic Rules
The program articulates with the Graduate Diploma in Forensic Mental Health 5512 and the Graduate Certificate in Forensic Mental Health 7312. Credit for courses completed as part of the GradDip and the GradCert may be transferred to the Masters program, in accordance with the UNSW policy on credit transfer.
Fees
For information regarding fees for UNSW programs, please refer to the following website:
UNSW Fee Website.
Admission Requirements
An undergraduate degree in health, law or criminology and honours/postgraduate qualifications in one of those disciplines or 2 years professional experience in health, law or criminology.
Contact
Related Program(s)
5512 Graduate Diploma in Forensic Mental Health
7312 Forensic Mental Health
[an error occurred while processing this directive]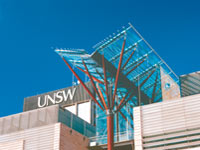 &nbsp