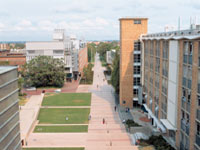 | | | |
| --- | --- | --- |
| | | |
| | | |
| | | |
| | | |
| | Campus: Kensington Campus | |
| | Career: Postgraduate | |
| | Units of Credit: 6 | |
| | | |
| | Indicative Contact Hours per Week: 2 | |
| | Enrolment Requirements: | |
| | Prerequisite: Academic Program must be either 9200, 9210, 9230, 5740, 9240, 5760, 9211, 5211, 9281, 5281, 9220 or 5750. | |
| | Excluded: JURD7507 | |
| | | |
| | | |
| | | |
| | | |
Description

This course involves an advanced study of international human rights law, providing an opportunity for deeper exploration of fundamental legal principles, concepts and doctrinal frameworks through the medium of contemporary human rights concerns. To this end, it identifies key human rights issues and challenges in a range of areas including security, business, development, gender etc. By focussing on selected human rights topics within these broader areas of international law and policy, the course equips students with a thorough understanding of the multifaceted dimension of modern human rights law and its cross-cutting application.

This course is part of a general offering of human rights and social justice topics within the UNSW Law School and aims to provide students with an introductory approach to select human rights issues.
LLM Specialisations

Recommended Prior Knowledge

Learning Outcomes

A student who has successfully completed this course should be able to:
have a sound knowledge of the main legal concepts and principles of international human rights law;
explain in your own words the meaning of legal concepts, doctrines and principles we have studied;
analyse the primary sources of human rights law;
demonstrate an ethical understanding of the nature of human rights law and be aware of on-going and future issues in the area of human rights;
demonstrate critical thought and to justify your ideas in a reasoned manner, rather than purely by way of dogmatic assertions or emotional responses, and to communicate effectively in speaking and in writing.
Main Topics

Principles of international human rights law including the international bill of rights;
Framework of the international human rights system including the monitoring and enforcement of human rights;
The role of the UN in upholding human rights;
In depth study of contemporary topics that will vary from year to year and may include: security, terrorism, development, gender.
Assessment

Class Participation 20%
Class Presentation 10%
Research Essay 70%
Course Texts

To be advised
Resources

A full up-to date reading list will be provided in the detailed course outline.