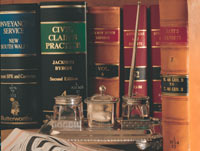 | | | |
| --- | --- | --- |
| | | |
| | | |
| | | |
| | | |
| | Campus: Kensington Campus | |
| | Career: Postgraduate | |
| | Units of Credit: 6 | |
| | | |
| | Indicative Contact Hours per Week: 2 | |
| | Enrolment Requirements: | |
| | Pre-requisite: Academic Program must be 9200 or 9210 or 5740 or 9230 or 9240 or 5760 or 9281 or 5281 or 9211 or 5211 or 9285 or 5285 or 9220 or 5750. | |
| | Excluded: JURD7487 | |
| | | |
| | | |
| | | |
| | | |
Description

All organised societies face the problem of controlling, by law, the use of force. International society is no exception. In fact, the control of the use of force in the international arena has proved to be one of the most intractable problems in international law. This course will examine the international law on the use of force, the jus ad bellum. It will introduce students to the laws relating to the prohibition of the use of force and discuss their exceptions, both agreed and controversial. Course participants will examine the law and practice relating to United Nations enforcement and peacekeeping action, including the changing nature and role of UN security actions in the post-Cold War era. The course will pay particular attention to the development of unilateral security actions such as the war in Iraq (2003) and discuss other recent developments such as the legality of the doctrine of pre-emptive force.
LLM Specialisations

Recommended Prior Knowledge

Course Objectives

To provide students with an understanding of the historical development of the characterisation of the use of force as unlawful and of the development of the UN system of collective security
To develop students' knowledge and understanding of the rules relating to the prohibition of the use of force and the exceptions, both agreed and controversial, to those rules
To examine and critically assess the appropriateness, relevance and effectiveness of the international community's attempts, both past and present, to institute collective responses to the unlawful use of force
To develop students' discipline in the advocacy of the legal regulation of the use of force
Main Topics

Limitations on the Unilateral Use of Force by States
Chapter VII and the System for Collective Measures
UN peacekeeping
Regional security
Assessment

| | |
| --- | --- |
| Class participation | 20% |
| Seminar presentation | 10% |
| Research essay outline | 5% |
| Research essay | 65% |
Course Texts

Prescribed
Christine Gray, International Law and the Use of Force (3rd edn, Oxford University Press, 2008)
The Charter of the United Nations (available online)
Recommended
A detailed supplementary reading list will be prepared by the lecturer.