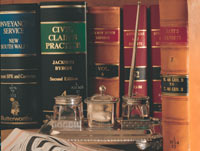 Description

This course provides a comprehensive coverage of the mechanisms for delivering administrative justice, including systemic issues such as access and the structuring of review and scrutiny mechanisms. The focus is on administrative decision-making and on extra-judicial means of redress for individual grievances against bodies exercising public power, including investigation and adjudication processes.
LLM Specialisation

Recommended Prior Knowledge

Administrative Law.
Course Objectives

A candidate who has successfully completed this subject should:
Understand the institutional framework, principles, and values of administrative justice
Understand the main policy, legal and regulatory issues raised by the topics for the course
Have a critical familiarity with the mechanisms for access to information, and review mechanisms
Be able to critically evaluate the information and ideas presented in the course and write a sustained and justified argument on a topic central to the course in the form of a research essay
Main Topics

Policy and ethical dimensions of administrative justice
Institutional frameworks for delivering administrative justice
Access issues, including language and culture, and legal assistance
Access to information, including reasons
Assessing the effectiveness of review mechanisms, including internal review, determinative and advisory review
The role of tribunals in delivering administrative justice
Assessment

Class participation, including short notes submitted in class - 10%
Essay plan and bibliography, 1,500 words - 20%
Research paper, 5,000 words -70%
Course Texts

Prescribed
There is no prescribed text for this course. Required readings, texts and resources for this course will be available in a printed pack of readings available from the UNSW Bookshop, and supplemented by resources on Blackboard.
Recommended Reading
Michael Adler (ed) Administrative Justice in Context 2010, Hart Publishing
Resources

Refer to Course Outline provided by lecturer at the beginning of session.