Architectural Studies - 3261
Program Summary
Program Description
Program Objectives and Graduate Attributes
Program Structure
General Education (6 UOC)
General Education (6 UOC)
Interdisciplinary Learning Course (6 UOC)
Interdisciplinary Learning Course (6 UOC)
Students are required to choose 2 courses from the suite of Built Environment Interdisciplinary courses to complete a minimum of 12uoc of BEIL courses.
Honours
Students completing the 3 year Bachelor of Architectural Studies program, who will not proceeding to the Honours year may graduate with Distinction if they achieve an overall WAM of 75.
Academic Rules
108 units of specified core courses, being all those prescribed in the faculty regulations for this program.
12uoc of FBE Electives from the list of Interdisciplinary Learning Courses (see list above)
12 units of open (free) electives, selected in accordance with the faculty regulations for undergraduate study in the Faculty of the Built Environment (see below).
12 units of General Education in accordance with University requirements (see below).
Open electives can be chosen from any courses offered by any Faculty at UNSW for which the student meets prerequisite or other enrolment requirments. The exceptions are those specific General Education GEN prefix courses which cannot be counted as open electives. Open electives do not need to be taken outside the Faculty, students can choose FBE electives as open electives.
Fees
Professional Recognition
Students enrolled in the Bachelor of Architectural Studies program (3261) are eligible to become Student Members of the Royal Australian Institute of Architects. Graduates of Architectural Studies are eligible to apply for the Master of Architecture degree. It is this degree which will be accredited by the Royal Australian Institute of Architects (RAIA) and the Architects Accreditation Council of Australia (AACA) for the purpose of registration, subject to the prescribed professional experience and examination requirements.
Area(s) of Specialisation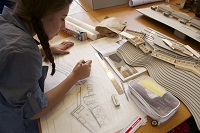 &nbsp