Arts (Honours) - 4511
Program Summary
Faculty: UNSW Canberra at ADFA
Contact: UNSW Canberra, Student Administrative Services
Campus: UNSW Canberra at ADFA
Career: Undergraduate
Typical Duration: 1 Years

Typical UOC Per Semester: 24
Min UOC Per Semester: 6
Max UOC Per Semester: 24
Min UOC For Award: 48
Domestic Entry Requirements: See Domestic Entry Requirements
International Entry Requirements: See International Entry Requirements
Award(s):
Bachelor of Arts (Honours)
View program information for previous years
Program Description
The purpose of BA Honours degree is to enable students who have performed well at undergraduate level to deepen their knowledge of approaches, perspectives and traditions in their chosen scientific discipline and undertake a significant research project. Honours is a means for connecting undergraduate study with supervised independent research by consolidating and extending work completed in the undergraduate program and providing an academic foundation for students continuing on to a Masters by research or a PhD.
Program Objectives and Graduate Attributes
At the end of the program, students should have acquired all of the following learning outcomes:

1. An advanced understanding of one or more of the theoretical underpinnings of the particular honours discipline;

2. The understanding and application of research methodologies appropriate to the particular discipline; and

3. The capacity to undertake independent research.
Program Structure
A student must obtain, normally over one year of study, a minimum of 48 units of credit in an area of study approved by the Head of School. The coursework component will normally consist of 18 UOC of semester-based courses. The research thesis component will normally consist of 30 UOC.

Honours will be offered in the following disciplines:
Students wishing to undertake Honours in Business should apply for admission to the Bachelor of Business (Hons) (Program Code 4512).

Students wishing to undertake Honours in Geography should apply for admission to the Bachelor of Science (Hons) (Program Code 4513).
Academic Rules
Honours Program Rules

Rules governing the award of the degree of Bachelor of Arts with Honours.

1. Admission Requirements

To apply for admission to the award of the degree at Honours level, an applicant must have:

a) successfully completed a three year BA with a major in the relevant honours discipline at UNSW Canberra at ADFA; or
b) gained a BA degree from another approved institution; and
c) achieved at least a credit average (65%) across the entire undergraduate program including a credit average over the Level III courses in the discipline in which honours is proposed.

2. Calculation of Honours

The final grade will be determined by the addition of the marks for the coursework component to the mark awarded for the thesis component.

The weighting for the class of Honours is WAM-based.

The thesis component will be examined by two examiners, neither of whom will be the thesis supervisor.

3. Class of Honours

The Honours degree is awarded in three classes (Class 1, Class 2 in two Divisions, and Class 3) as follows:

Honours Class 1: 85 or greater;
Honours Class 2 Division 1: 75 to 84;
Honours Class 2 Division 2: 65 to 74;
Honours Class 3 or Pass: 50 to 64

Pathways

Students who complete an Honours program and achieve an Honours Class 1 are well placed to apply for higher degree research (a Doctor of Philosophy (PhD) or Masters by Research (MA)) and scholarships such as the Australian Postgraduate Award (APA). Further details on career opportunities for students who complete an Honours degree can be obtained from the School.
Fees
For information regarding fees for UNSW programs, please refer to the following website:
UNSW Fee Website.
Related Program(s)
4400 Arts
4512 Business (Honours)
4513 Science (Honours)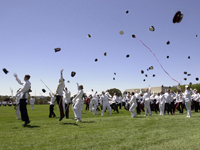 &nbsp