Technology (Aviation) - 4437
Program Summary
Faculty: UNSW Canberra at ADFA
Contact: UNSW Canberra, Student Administrative Services
Campus: UNSW Canberra at ADFA
Career: Undergraduate
Typical Duration: 3 Years

Typical UOC Per Semester: 24
Min UOC Per Semester: 6
Max UOC Per Semester: 24
Min UOC For Award: 144
UAC Code: 450090
Domestic Entry Requirements: See Domestic Entry Requirements
International Entry Requirements: See International Entry Requirements
Award(s):
Bachelor of Technology (Major)
View program information for previous years
Program Description
Engineering Technology degrees within UNSW Canberra provide outstanding technology education to the future leaders of the Australian Defence Force and encourage excellence through contributions to the engineering profession, industry and community.
Program Objectives and Graduate Attributes
The BTech (Av) program is based on core engineering subjects, however specialist components of the BTech (Av) program focus on the interface between technology, individuals and organisations in the aviation industry. The aim is to provide the student with a deep understanding of the various technological and human systems that contribute to the safe and efficient operation of aircraft.

A key element in this program is the focus on the role of people as key components in a technologically advanced and complex aviation system. There is particular emphasis on the role of human operators (e.g. pilots, air combat officers and air traffic controllers) in aviation infrastructure and safety management systems. Other courses such as aerodynamics and aircraft systems often incorporate problem-based learning informed by academic research and industrial practice. Electives and a final semester project enable students to pursue particular interests both within and outside the specialist discipline.

The BTech (Av) program is designed for potential pilots, navigators and air traffic controllers entering the Australian Defence Force. It is differentiated from the BTech (Aero) program in that there is greater focus on the role of humans in the operation of complex aerospace systems. This program does not provide a short articulation pathway to Bachelor of Engineering.
Program Structure
The BTech (Av) program is grounded in foundation science and engineering therefore some first year courses are common to aerospace and mechanical engineering streams. In second and third year the program diverges into an aviation specialist stream.
First Year Program
Second Year Program
One x Technical Elective Course
And 2 x General Education Courses

Third Year Program
And 2 x Technical Elective Courses

Technical Elective Courses
Upper level courses from BEng (Aero) or other programs may be taken with the Program Coordinator's approval.


Academic Rules
1. Faculty Regulations for Undergraduate Students

A student must comply with the Faculty Regulations for Undergraduate Students. In the event of a conflict, the rules for the Bachelor of Technology (Aviation) take precedence over the Faculty Regulations for Undergraduate Students.

2. Program Requirements

2.1 The degree of Bachelor of Technology (Aviation) shall be conferred as a 'Pass with Distinction' when a Distinction level performance based on a weighted average mark (WAM) of at least 75% has been achieved in all courses completed since enrolment at UNSW.

2.2 To qualify for the degree of Bachelor of Technology (Aviation) a student shall normally be enrolled for a minimum of six semesters and gain a minimum of 144 units of credit (normally 24 UOC in each full-time semester).

2.3 A student completing a Standard Program shall complete courses, in the years prescribed, as set out in the relevant schedule.

2.4 A student completing a Non-Standard Program shall, subject to the requirements of Rule 2.5 (below), timetabling requirements and approval of the appropriate Heads of School, be permitted to enrol in any one year in courses selected from more than one year of the relevant schedule.

2.5 Before a student's enrolment will be accepted for any course, the student must have completed the relevant pre-requisite courses shown in the Course Catalogue, except where the School Undergraduate Coordinator for the appropriate course approves otherwise.

3. Practical Experience Requirements

Before graduation a student shall complete 40 days of approved practical engineering/aviation experience which must be done in blocks of at least 20 working days each where practicable and where each block must be in the service of a single provider, 20 days of appropriate service training may be counted towards this total.
Fees
For information regarding fees for UNSW programs, please refer to the following website:
UNSW Fee Website.
UNSW Canberra Faculty Regulations for Undergraduate Students
These regulations apply to all undergraduate degrees and are to be used in conjunction with Academic Rules and Program Information. All rules in this Handbook apply to each student who enters an undergraduate program in 2017. The rules remain applicable until the student exits their program, either by discontinuation or graduation. Students who entered a program in another year should consult the rules and regulations for that year.
Please refer to
Faculty Regulations information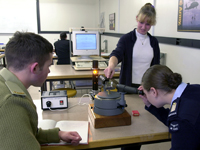 &nbsp