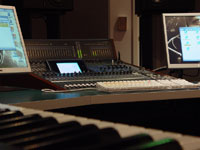 | | | |
| --- | --- | --- |
| | | |
| | | |
| | | |
| | Campus: Kensington Campus | |
| | Career: Undergraduate | |
| | Typical Duration: 3 Years | |
| | Typical UOC Per Semester: 24 | |
| | Min UOC Per Semester: 6 | |
| | Max UOC Per Semester: 24 | |
| | Min UOC For Award: 144 | |
| | Award(s): | |
| | Bachelor of Media | |
| | Bachelor of Media (Honours) | |
| | Bachelor of Media (Major) | |
| | | |
The Bachelor of Media in Screen and Sound provides foundational skills and concepts relevant to career pathways in a broad range of audio-visual production industries. The degree is both ideas driven and vocationally relevant in its orientation and all students are given foundational practical experience in the thoughtful and creative applications of established and emerging audio-visual media technologies. While specialising in film studies and audio-visual media, students will also be immersed in the culture and philosophy of media studies through their courses in the media core. In addition students complete a minor in the humanities or social sciences, permitting them to study a second field in depth .

First and second levels cover audio-visual production and contextual film and media studies. As students proceed into the third level, the program expands and deepens knowledge and understanding in the technical, analytical and conceptual application of media technology to the design of various audio-visual media projects, as well as focussing on emerging trends and innovations in contemporary film and media practices.

A fourth (Honours) year of study is an option for selected students.
Program Objectives and Learning Outcomes
Students are prepared for a leadership role in the thoughtful application of audio-visual media technologies informed by a solid understanding of media theory. In this program students are not simply skilled up in the use of video and sound recorders, computers and media applications, but are encouraged to become media innovators who are able to tackle complex issues by drawing on their integrated practical and theoretical expertise.

Students become immersed in the current culture of contemporary audio-visual media production and theory. They are encouraged to test out emerging ideas and developments and look for novel ways to approach the production of the audio-visual media. Graduates will gain foundational expertise in a range of audio and visual production tools, but more importantly, they will be able to interpret and reflect on emerging media practices, enabling them to take leading creative roles in the rapidly changing audio-visually based media industries.

Career opportunities

This program provides foundational skills and concepts relevant to career pathways in a broad range of audio-visual production industries. Examples include multimedia or screen director, editor, sound designer, producer and other roles within video and audio production. With its training in research, self directed learning, critical thinking and collaborative working skills, this program also allows graduates to achieve the skills necessary for and adaptable to employment in areas as diverse as film criticism, arts administration, festival programming, communication research and media marketing.
Level 1
Core Courses - Media
Core Courses - Screen and Sound major
Elective Courses - Screen and Sound major
Level 2
In Level 2 students do core courses in Modes of Publishing and either Global Media or Media Mobilities. They also do two core production courses Bodies and Interfaces and Animating Media. They are also able to do electives from a wide selection of courses in digital media design and production, computer game design, interactive environments and advanced web design.
Level 3
Level 3 core courses investigate key issues in the role of media in public culture and the relationship between publics and publicity, media aesthetics, technologies and innovation, and a major production project. Students are also able to do more media production electives from the elective list.
Bachelor of Media (Screen and Sound) -
Sample Program
| | | | | | |
| --- | --- | --- | --- | --- | --- |
| | | | | Arts Minor (e.g. English) & | |
| | | | | English course (6) | |
| | | | | | |
| | | | | | |
| | | | | | |
General Education Requirements
To fulfill the University's General Education requirement students must complete 12 units of credit selected from courses outside the Faculty of Arts and Social Sciences. This requirement is met if a major or minor not offered by the Faculty as listed above (for example, Economics) is completed.
To complete the requirements for the award of the degree of Bachelor of Media in Screen and Sound a student must:
Complete a 36UOC Media core, a 48UOC Screen and Sound Major, and a 36UOC Arts Minor.
As a General Education requirement, 12UOC of electives are to be taken outside the Faculty of Arts and Social Sciences.
A student must complete at least 18UOC of Level 1 courses before enrolling in Level 2 courses and no more than 60UOC in total of Level 1 courses including their General Education electives.
Complete a minimum of 84UOC from courses convened by the Faculty of Arts and Social Sciences.
Students must adhere to the above program rules, the UNSW 3 year undergraduate degree rules and complete 144UOC to graduate.

Honours entry is subject to approval by the Head of School. It requires a pass degree (144UoC) with at least a 70% average in the upper levels of the Media Core.
Minors
Student must complete an approved sequence (36 units of credit) in one of the following areas of study:
*Art History and Theory (COFA)
*Economics (Australian School of Business)
*Geography (Science)
*Human Resource Management (Australian School of Business)
*International Business (Australian School of Business)
Jewish Studies (Only available from year 2010 onwards)
*Psychology (Science)
* denotes minors offered by Faculties other than Arts and Social Sciences
The Academic Rules for the Faculty of Arts and Social Sciences Undergraduate programs and the online enrolment facility provide students with a wide range of course choices. The online enrolment facility checks that students meet the enrolment requirements for individual courses but not that a course complies with Program Rules. Students are responsible for ensuring they are enrolling in accordance with the Academic Rules outlined above. Students should not assume that because they have enrolled in a course online that the course is automatically credited to their degree program.
Area(s) of Specialisation