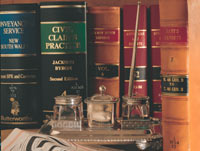 Description

This course covers the part of the law of torts which covers the law determining liability to pay compensation for wrongfully caused injury, damage or loss. Our study of the law of torts focuses largely on personal injury caused by negligence, though there are many other torts, some of which are dealt with in other courses. In particular the course covers the scope and function of the law of torts and the principles governing selected torts, notably negligence and tort of breach of statutory duty, including remedies for them.
Recommended Prior Knowledge

This course assumes knowledge of nuisance, and trespass to land and goods which are covered in the course LAWS 1052 Foundations of Law.
Course Objectives

To teach students the core principles of law including a critical understanding of the policy considerations informing the law
To examine in a detailed way the forms of argument used in tort law by studying a relatively limited number of leading cases and the legislation in selected areas and therefore developing skills of analysis, synthesis and evaluation
To encourage students to consider the way in which the law of torts operates in the context of society as a whole, and the ways in which it is influenced by such particular factors as insurance, social security, and the need (or absence of a need) to ascribe fault. Thus there is a theoretical component to the course which examines various debates about the nature and effectiveness of tort law
Main Topics

The duty of care in negligence
Breach of duty
Causation and Remoteness
Concurrent and Vicarious liability
Breach of Statutory Duty
Defences to negligence
Damages
Theoretical perspectives on compensation law, tort reform and negligence law
Assessment

Class participation - 20%
Mid-session problem and essay assignment - 40%
Exam - 40%
Course Texts

Sappideen, Vines, Grant and Watson, Torts: commentary and materials, 10th ed, Law Book Co, 2009
Civil Liability Act 2002 (NSW)
Course Materials
Recommended
Trindade, Cane and Lunney, The Law of Torts in Australia, 4th ed, OUP, 2007.
Resources

Refer to Course Outline provided by lecturer.