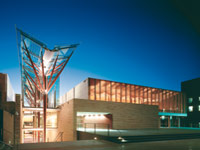 | | | |
| --- | --- | --- |
| | | |
| | | |
| | | |
| | | |
| | Campus: Kensington Campus | |
| | Career: Postgraduate | |
| | Units of Credit: 6 | |
| | | |
| | Indicative Contact Hours per Week: 3 | |
| | Enrolment Requirements: | |
| | Prerequisite: Academic Program must be either 9200 or 9210 or 9220 or 5740 or 5750 or 9230 or 9285 or 5285 or 9214 or 5214. | |
| | Excluded: JURD7342, JURD7741, LAWS3034, LAWS3042 | |
| | | |
| | | |
| | | |
| | | |
Description

This course is concerned with laws that impose significant legal restrictions upon what the media, or other communicators to large-scale audiences, may publish under Australian law. The subject matter is as relevant to the publication of books, films and videos as to newspapers and broadcast programs, and the legal problems presented by the new technologies receive special emphasis. The course begins with some consideration of the meaning or meanings of freedom of expression and the extent to which it is protected in general terms under Australian constitutional law. Special attention is paid also to broad political and philosophical theories about the notions of free speech and censorship. The focus then turns to specific laws having a significant daily impact on the contents of publications. This includes the law relating to racial vilification, blasphemy, sedition, publication of obscene material and contempt of court.
LLM Specialisations

Recommended Prior Knowledge

None
Course Objectives

A candidate who has successfully completed this course will have a broad understanding of:
The general principles and some of the legal intricacies in each of the topics
The thematic links between them
Aspects of their operation in practice
Historical, comparative and policy aspects
Main Topics

Notions of "free speech" and "censorship"
Australian constitutional position with respect to freedom of speech and its impact on the laws to be considered in this course
Racial and religious vilification
Regulation of obscene material
Art and censorship
Blasphemy in a multicultural society
Sedition in an age of terrorism
Restrictions on court reporting
Journalists and confidential sources
Sub judice contempt - fair trial versus freedom of the press
Scandalising the court
Assessment

| | | |
| --- | --- | --- |
| Class participation | | 10% |
| Research assignment | (5,500 - 7,000 words) | 90% |
Course Texts

Prescribed
Course Materials will be available before the first class. These contain comprehensive details of the specific readings for each class.
Recommended
Refer to the course outline which will be provided by the lecturer at the beginning of the relevant semester.
Resources

Refer to the course outline which will be provided by the lecturer at the beginning of the relevant semester.