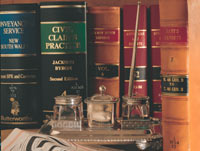 Description

This course examines the way in which the World Trade Organsiation (the WTO) regulates international trade. The course begins by examining the arguments for and against the regulation of international trade, and the historical development of the WTO Agreements. The course will then survey the major WTO Agreements, such as the General Agreement on Tariffs and Trade (the GATT) and the General Agreement on Trade in Services (the GATS). The course will also provide insight into some of the major concepts and controversies in present day international trade law. It is hoped that by completing this course, students will gain a balanced perspective into the strengths and weaknesses of the WTO system, and a working knowledge of the way in which the WTO affects domestic regulation of international trade.
LLM Specialisations

Recommended Prior Knowledge

None
Course Objectives

The course is intended to give students the tools to understand the contemporary context of international trade, the legal regime established by the WTO, and to enable them to understand and take part in contemporary policy debates about the WTO and globalisation more generally.
Main Topics

Globalisation and the rationales of free trade;
The history of trade liberalization and the origins of the WTO;
Structure of the WTO and the Marrakech Agreement Establishing the World Trade Organization;
The major WTO Agreements, such as GATT, GATS and the Dispute Settlement Understanding;
Current Issues, such as reform of the WTO, trade and environment; trade and social standards; trade and human rights.
Assessment

Take-home exam
100%

OR

Research essay

5,000 words

100%
Course Texts

Simon Lester and Bryan Mercurio, World Trade Law: Text Materials and Commentary. (2008, Hart Publishing). Copies of this text are available for purchase from the bookshop, and available for loan in the library
Recommended
Refer to Course Outline provided by lecturer.