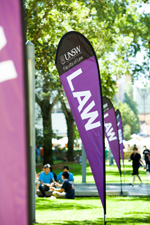 Description

The course aims to provide students with some of the basic building blocks essential to an understanding of property law. These key concepts are not only important to property law itself but also to understandings in related fields such as succession, taxation, water law, native title, trusts and equity, for example. The course explores the concept of the fragmentation of proprietary interests and discusses how interests may be divided spatially according to the doctrine of tenure, and temporarily, according to the doctrine of estates. The course also aims to provide students with an overview of the creation, transfer and acquisition of various types of property interests which may include mortgages, leases and easements. Its primary focus is on real property but it also touches on personal and intellectual property.
Credited Programs

Legal Studies students only
Recommended Prior Knowledge

None
Course Objectives

On completion of this course students should be able to:
Recognise legal problems at a standard appropriate to an introductory course
Undertake legal research
Argue clearly and persuasively, both in writing and verbally
Read and interpret legislation at the standard appropriate to an introductory course
Evaluate critically existing legal principles and institutions with a view to determining what reforms, if any, are needed
Apply your knowledge to theoretical issues
Develop an individual perspective on the philosophy(ies) underpinning property
Main Topics

The concept of property
The doctrines of tenure and estates
Native title
Adverse possession
Priorities
Torrens
Leases
Mortgages
Assessment

Class participation - 20%
Research exercise - 80%
Course Texts

Prescribed
J Gray (et al), Property Law in New South Wales, LexisNexis, Sydney, 2007.


Recommended
None
Resources

Some Course Materials will be sent electronically to students before the course commences. These must be undertaken in advance of attending the course.