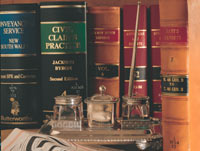 Description

This course provides a comprehensive understanding of Mining Resources Law and Practice in Australia. The mining industry is a rapidly developing area of endeavour which is central to Australia's national development. This comprehensive course examines the legislative framework for exploration and extraction, as well as considering the relevance and applicability of other areas of law to the resource industry. Focus is placed on commercial law and corporate law, including a discussion of trade practices and funding, employment law, in particular OH&S, and environmental law, where emerging resource industries are examined against the back drop of existing environmental obligations. Finally, the course also explores the special relationship between the resources in industry in Australia and native title.
LLM Specialisation

Recommended Prior Knowledge

The course builds on prior learning in your LLB degree.
Course Objectives

Students undertaking this course will:
develop a functioning knowledge of the legislative basis for mining and resources activity in Australia
identify how the financial services sector, environmental law, employments and TPA issues affect the mining and resources area
engage in understanding key areas of development in legal regulation of sustainable energy technologies and new markets
develop an understanding of the relationship between the mining and resources industry and native title and indigenous Australians.
evaluate the laws, rules and issues relating to the mining resource industry
Main Topics

Overview of the relevant state legislative framework governing the mining and resources industry including mineral claims, mining licences, crown reservations, royalties
Corporate and commercial considerations including funding, capital raising trade practices, mergers and acquisitions, joint ventures and due diligence.
The regulation of environmental laws and obligations and stakeholder attitudes toward them
Employment law, including OH&S, contracting and outsourcing contracts.
Legal issues arising from emerging technologies and new markets such as carbon and water trading
The relationship and collaborative potential between the mining and resources industry and indigenous Australians and native title
Assessment

There is 1 assessment component:

Research Essay of 7,500 words - 100%
Topics must be agreed upon in consultation with the lecturer.
Course Texts

Duncan, W.D (ed). Joint Ventures Law in Australia (2nd ed) (2005) Federation Press.
Additional recommended texts are listed in the Course Outline provided by the lecturer. Also provided in the course outline are journal articles and required Legislation. When seeking access to these resources you can obtain assistance from the UNSW Library. One starting point for assistance is the
UNSW Library Resources