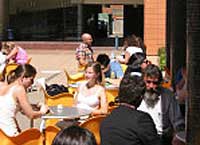 | | | |
| --- | --- | --- |
| | | |
| | | |
| | | |
| | | |
| | Campus: Kensington Campus | |
| | Career: Postgraduate | |
| | Units of Credit: 4 | |
| | | |
| | Indicative Contact Hours per Week: 1 | |
| | Enrolment Requirements: | |
| | Prerequisite: Academic Program JD (9150) Co: JURD7211 | |
| | Excluded: JURD7412, JURD7691, LAWS3412, LAWS8391, LAWS8392 | |
| | | |
| | | |
| | | |
Description

Equality and the principle of non-discrimination are central to the enjoyment of human rights and freedoms. This course explores the fundamental principles of the international law of equality and non-discrimination and their place in human rights law. It also examines the application of these principles to selected contemporary circumstances. The course focuses particularly on sex, disability and race discrimination, looking closely at gross or entrenched violations, comparing the approaches of various domestic non-discrimination law regimes and analysing the main policy debates.

This course is also available to students undertaking relevant postgraduate non-law degree programs at UNSW, provided such enrolment is approved by the appropriate non-law Faculty.
LLM Specialisation

International Law and Human Rights and Social Justice
Recommended Prior Knowledge

None
Course Objectives

To examine and analyse the main legal concepts and principles of the international law of equality and non-discrimination
To apply these concepts and principles to specific situations and relationships in which inequality exists and unlawful discrimination commonly occurs
To evaluate critically the mechanisms in use to correct inequality and combat discrimination
To assess the effectiveness of anti-discrimination law as a means of eliminating unlawful discrimination and promoting equality
Main Topics

The course includes selected aspects of each of the following key areas:
Theories of equality
The principle of equality: conceptual and historical background
The prohibition on discrimination
Concepts in anti-discrimination: prohibited grounds and special measures
The International Bill of Human Rights
Discrimination on the basis of sex
Race, religion, ethnicity and discrimination
Indigenous peoples and discrimination
Discrimination on the basis of age.
New grounds of discrimination: disability and other developments
International mechanisms for implementation and compliance
Assessment

| | | |
| --- | --- | --- |
| Class Participation | Preparation and engagement in class | 20% |
| Short answer questions | | 10% |
| Research essay | 2,500 - 3,000 words | 70% |
Course Texts

Prescribed
Course Materials must be purchased form the UNSW Bookshop.

Additional materials may be distributed during classes. A list of required and suggested reading for the course will be made available closer to the commencement of the course.
Recommended
None
Resources

Refer to Course Outline provided by lecturer at the beginning of session.