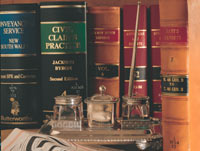 Description

The course provides a comprehensive introduction to Jewish Law. The first section covers the history, philosophy and principles of Jewish Law. In addition it addresses the nature of halakhic Judaism, the relationship between the Written and Oral Law, the major rabbinic personalities and a study of selected topics, with particular reference to Halakhah and Modernity. The second section introduces text material (in English translation) on Talmudic civil and criminal law. The course is an excellent opportunity to study an important branch of Comparative Law together with Jewish Customary Law and thereby enhance understanding of the Australian legal system by raising awareness of alternative solutions to legal issues.
Recommended Prior Knowledge

None
Course Objectives

To comprehend the nature of Jewish Law, its origins and principles.
To have an appreciation of the historical development of Jewish Law from its inception through to modern times.
To understand how Jewish Law confronts the challenges of modernity.
To compare the Jewish Civil and Criminal Code with Australian Law.
To study Talmudic and Post Talmudic texts in translation in order to achieve a knowledge of the processes of Jewish Law.
Main Topics

Introduction to Halakhic Judaism
The Written Law
The Oral Law
The Talmud
The Commandments
The Geonim
The Rishonim
The Acharonim
Halakhah and modernity
Women and Jewish Law
Selected key terms and principles in civil law
Assessment

| | | |
| --- | --- | --- |
| Class participation: | Attendance and engagement in class: | 10% |
| Research Essay: | 3000 words | 40% |
| Take Home Exam: | 3000 words | 50% |
Course Texts

Prescribed
Mishnah Sanhedrin, Mishnah Bava Metziah, Mishnah Bava Kama, Maimonides - Mishneh Torah (All texts, in translation, provided).
Recommended
Refer to reading list provided by lecturer.