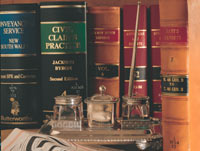 Description

The course provides an introduction to the Indonesian legal system: its modern form based in civil law and implications for legal pluralism that arise from co-existing religious law and Adat law (or customary) law. Recent developments and reforms in Indonesian law, focussing on the responses to political, social and cultural change since 1997, will be considered. The course will take a thematic approach by looking at constitutional and human rights law, changes brought by decentralisation, Indonesian law making style and form, and the functioning of the court system. Legal subject areas covered will include natural resources management and environmental law, land law, investment law, commercial law, and the law of personal status.
Recommended Prior Knowledge

None
Course Objectives

A candidate who has successfully completed this course should be able to:
identify the components of the Indonesian legal system;
understand the operation of and tensions within a pluralist legal system in a developing country;
analyse and evaluate effectiveness of legal regulation in substantive subject areas.
Main Topics

Sources of Indonesian law: civil law, Adat, religious law
Constitutional arrangements (including implications of decentralisation)
Law-making in Indonesia
Courts in Indonesia
natural resources management
environmental law
land law
investment law
commercial law
law of personal status
Assessment

Class participation: 20%

Seminar presentation: 20%

Research essay (3,000 words): 60%
Course Texts

Prescribed
Course materials provided prior to commencement.
T Lindsay (ed) Indonesia: Law and Society (2nd ed, 2008, Federation Press)
Resources

Refer to the course outline which will be provided by the lecturer at the beginning of the relevant semester.