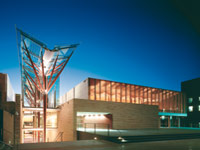 Description

The Criminal Trial is a course that grounds the study of the criminal trial by contextualising the impact of the law of evidence and advocacy practice while building on students' basic knowledge of the doctrine, principles and rules relating to criminal litigation. It builds on and extends students' studies in Litigation 1 and 11, Criminal Law 1 and 11, Law, Lawyers and Society, Kingsford Legal Centre and The Criminal Appeal Project by providing a multidisciplinary framework that explicates the role of participants in the criminal trial process.

Outside classroom hours students must attend criminal trials in progress to observe the conduct of judges, jurors, accused, witnesses and lawyers in real cases. Classroom discussion focuses on commentaries in the course text that examine a variety of issues associated with the dynamics of criminal trials. These commentaries are from a multidisciplinary perspective, incorporating the observations of historians, psychologists, sociologists and linguists. Assessment is an essay that is a comparative analysis of the conduct and practices of participants in observed trials with what the law expects, requires or assumes exists in relation to those participants.
Recommended Prior Knowledge

None
Main Topics

Decision-makers in the criminal trial: the judge; the jury
The Common Law trial and the theory of case
Building a case for trial: theory of case, storytelling and advocacy
The accused and … where did our criminal trial come from?
Witnesses and lawyers
Assessment

Court fieldwork (0%)
and
Criminal trial report (70%)
and either
Class preparation and participation (0 - 30%, maximisable against reflective note option)
or
Complete 1-3 reflective notes (10% each to a maximum total of 30%)
Course Texts

Prescribed
Course materials will be available from the UNSW Bookshop.
Recommended
Refer to Course Outline.
Resources

Refer to Course Outline.