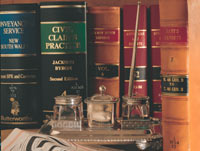 Description

The course falls into two parts. First, it will focus on the detailed legislative framework of residential tenancies law, including the broader policy issues in relation to security of tenure, rent control, termination, procedural informalism. The second part will examine more general policy debates about the provision of adequate housing, such as taxation reform, planning laws, the Commonwealth/State Housing funding arrangements, Aboriginal housing and strategies to address homelessness such as support accommodation programs. Finally, students will be introduced to the relevant international human rights instruments relevant to Australia's housing law.
LLM Specialisation

Human Rights and Social Justice.
Recommended Prior Knowledge

JURD7282 Property and Equity 2.
Course Objectives

To explore the law and policy in relation to housing provision, particularly tenancies.
Main Topics

Residential tenancy law
Strata schemes
Consumer Trader and Tenancy Tribunal practice
Rental bonds
Human rights
Residential parks legislation
Assessment

| | | |
| --- | --- | --- |
| Report | | 10% |
| Class participation | | 20% |
| Research paper | | 30% |
| Exam | | 40% |
Course Texts

Prescribed
Anforth and Thawley, Residential Tenancies Law in New South Wales, 2nd ed, Thomson, 2005
Recommended
None
Resources

Refer to Course Outline provided by lecturer at the beginning of session.