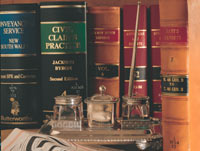 Description

The course will focus on policing as a set of social and legal practices and institutions. It will be particularly concerned with the potential role of law in policing, both as a resource and as a regulator. Comparative material will be used, drawing out similarities and contrasts between policing in New South Wales and elsewhere. Its approach will be inter-disciplinary, drawing on my experience in researching police work in England and Australia and on a wide range of historical, socio-legal and criminological literature.
LLM Specialisation

Criminal Justice and Criminology
Recommended Prior Knowledge

Completion of Criminal Law 1 & 2.
Course Objectives

The main objective of this course is to introduce you to the rapidly developing interdisciplinary field of policing studies. While Australian policing studies are still in their infancy, a great deal of research has been produced in the UK, Canada and the US in recent years. This imbalance structures the general aims of the course:
To present issues and debates from the international policing literature and to relate them to local developments
To encourage critical thought and research on policing in AustraliA
To develop interdisciplinary study in criminology and socio-legal studies
Main Topics

Introductory issue: Policing domestic violence
Models of policing I: From local policing, to professional policing, to community policing
Models of policing II: From community policing to crime control policing & beyond
Plural policing
Policing Aboriginal Australia
Risk, security and policing terrorism
Fictional representations of policing
Police culture(s)
Law in policing
Stop and search
Police interviewing of suspects
Drug policing
Corruption and reform
Reform and accountability
Assessment

| | | |
| --- | --- | --- |
| Class performance | | 10% |
| Research essay proposal | | 5% |
| Research essay | | 55% |
| Final exam | | 30% |
Course Texts

Prescribed
The course is based on materials o be provided. However, students wishing an introduction to the subject could consult:
Newburn, T.(ed) (2003) Handbook of Policing (Cullompton, UK: Willan)
Newburn, T. (ed) (2005) Policing: Key Readings (Cullompton, UK: Willan)
Recommended
Materials will be provided.
Resources

Materials will be provided.