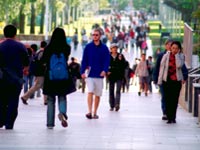 Description

Employment Protection Law considers general issues relating to employment in Australia and world wide. The course takes a broad thematic approach. It begins by looking at labour in an international context, discussing the role of the International Labour Organisation, international labour standards, and the 'globalisation' of labour. The course will then cover a range of issues, which may include topics such as the ILO's 'decent work' standards; rights to freedom of association and collective bargaining; regulation of wages, working hours and leave entitlements; job security in the context of the economic pressures of globalisation on domestic business; workplace safety; workers' rights to privacy; protection for whistle blowers; discrimination in the work place etc.
Recommended Prior Knowledge

None
Course Objectives

The course aims to:
Familiarise students with issues in labour law
Familiarise students with international labour standards
Assist students to understand the context within labour laws and standards operate
Challenge students to view this area from a critical perspective
Stimulate students to communicate intelligently and articulately on the topic of labour law
Assist students to develop research skills in the labour law area
On conclusion of this course students should be able to:
Demonstrate an understanding of the context within labour laws and practices operate
View these laws from a critical perspective
Relate what they have studied in this course to their own experiences, and to the world around them
Communicate intelligently and articulately on the topic of employment law
Conduct research on labour law topics
Engage in informed debate on labour law and practice
Conduct independent research on the topic of labour law
Assessment

This will be determined in consultation with students in the first week of semester.
Course Texts

Prescribed
Exact materials to be advised, but reading for this course will include printed course materials, material available on the Employment Law WebCT Vista site, and materials accessible via AUSTLII
Recommended
Owens R and Riley J
The Law of Work
(OUP, Melbourne, 2007)
Additional references will be available via the Employment Law WebCT Vista site.
Resources

Refer to Course Outline provided by lecturer.
The course is supported by a WebCT vista site.