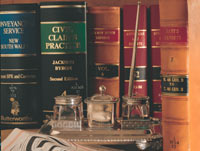 Description

This course is concerned less with a new field of law than with the application of established principles and procedures of the Australian legal system to Indigenous Australians – Aboriginal peoples and Torres Strait Islanders. Thus we re-visit aspects of Criminal Law and Procedure, Property Law, Constitutional Law, etc. At a more fundamental level the course is concerned with the inescapable fact that, in much of Australia, two systems of law may still be operating – the Indigenous system and the Anglo-Australian system. Until quite recent times, the introduced legal system simply ignored Indigenous laws, and rights and responsibilities under those laws. So, this course raises fundamental questions about the juridical basis of the Australian nation state, the uses and misuses of history, the acceptability of legal pluralism, and issues of justice, equality and human rights.
Recommended Prior Knowledge

None
Course Objectives

The aims of this course are:
To consider specific issues arising from the relationship between Australia's Indigenous peoples and the legal system, to develop a coherent perspective on the place of Indigenous people in Australian society, and to acquire new perspectives on the Australian legal system itself
To sensitise students to the many problems experienced by Indigenous people in relation to the legal system
To consider legal changes that may be appropriate to assist in improving the position of Indigenous people in Australian society, and in advancing Reconciliation
To provide a professional foundation for those who may go on to work in firms or organisations involved with Indigenous peoples
Main Topics

History and Government Policies
Indigenous Laws
Indigenous Governance
Land Rights
Native Title: Recognition and Evolution
Native Title: Law and Process
Native Title: The Practice Dimension
Human Rights and Indigenous Rights
Racial Discrimination
Indigenous Cultural and Intellectual Property
Criminal Justice Issues
Child Welfare
Reconciliation and Unfinished Business
Assessment

Class participation 20%
And either:
Exam 80%
Or:
Project 80%
Another possibility is to undertake a smaller-scale project and also to do the exam, or to do two smaller-scale projects. The assessment scheme overall is subject to discussion on Day 1.
Course Texts

Prescribed
A new, fourth edition of the prescribed text is due at the UNSW Bookshop in the second week of July: Heather McRae et al, Indigenous Legal Issues: Commentary and Materials, (4th ed, 2009, Lawbook Co).