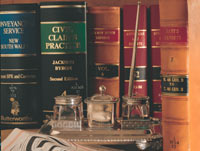 | | | |
| --- | --- | --- |
| | | |
| | | |
| | | |
| | | |
| | Campus: Kensington Campus | |
| | Career: Postgraduate | |
| | Units of Credit: 6 | |
| | | |
| | Indicative Contact Hours per Week: 2 | |
| | Enrolment Requirements: | |
| | Prerequisite: Academic Program must be either 9200, 9210, 5740 or 9230 | |
| | Excluded: LAWS1004, LAWS8108 | |
| | | |
| | | |
| | | |
Description

This is an advanced socio-legal course which draws on doctrinal, contextual and criminological sources to examine a range of current criminal justice issues. The course is aimed at advanced level students looking for a research-based elective which enables you to hone your research and writing skills and develop your theoretical, legal, policy and presentational skills in a collegial, interactive teaching environment in which students are treated with respect. The course may be taught intensively over five days, with an introductory evening class to collect course materials and receive information about the assessment scheme, followed by four days of classes over two weekends.
LLM Specialisation

Human Rights and Social Justice; Criminal Justice and Criminology.
Recommended Prior Knowledge

Criminal Law 1 and 2 or equivalent.
Course Objectives

The main aim of the course is to emphasise the integration of legal, social, political and policy analysis of the criminal justice system within a sophisticated theoretical framework, and to foster research skills which involve considerable student autonomy and choice. The mix of legal, doctrinal, criminological, critical, and policy-oriented perspectives is intended to enhance interdisciplinary research, writing and advocacy skills.
Main Topics

The exact topics covered will vary from year to year.
The politics of law and order
Crime rates
The law and order auction
Recent legislative changes in NSW
The rise of popular punitiveness and the 'public voice'
The impact of recent bail changes
Issues of juror comprehension and conditions of service, the impact of standard minimum non-parole periods, the rise of risk technologies and instruments in criminal justice decisions
Crime and popular culture issues, including crime coverage in the tabloids, serial killers, crime fiction, tv cop and court shows, and the growing appeal of forensic crime shows
Punishment issues, including why the Aboriginal imprisonment rate is increasing so disproportionately
Prisoners as citizens including the recent loss of the suffrage at federal elections
The emergence of supermax prisons and their antecedents
Whether a "punitive turn" or a "new punitiveness" is evident in recent decades
Assessment

| | | |
| --- | --- | --- |
| Class participation | Preparation and engagement in class | 10% |
| Research essay | 5,000 words | 90% |
Course Texts

Prescribed
There is no prescribed text but students will be expected to read the set of course materials prepared by the teacher prior to classes.
Recommended
David Garland, The Culture of Control (2001)
John Pratt, David Brown, Mark Brown, Simon Hallsworth, and Wayne Morrison (eds) The New Punitiveness (2005)
D. Weatherburn, Law and Order in Australia, (2004)
R. Hogg and D. Brown, Rethinking Law and Order (1998)
Resources

Course readings; Recommended texts; Library holdings.