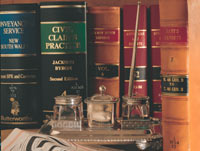 Description

An introduction to a number of important legal and theoretical aspects of the operation of business corporations. The course deals firstly with the process and incidents of incorporation, including the derivation of the modern corporation and an introduction to regulatory structures; an introduction to the corporate constitution, organs and capital; the separate personality of the corporation and its exceptions. The balance of the course is concerned with the structure and governance of the corporation. It examines the corporate organs (the board of directors and the general meeting) and the division of corporate powers between them; the duties and liabilities of directors and other officers; the remedies available to shareholders for the enforcement of directors duties and protection against oppression or overreaching by controllers. The course considers these legal doctrines and theoretical perspectives as they relate to both public corporations and to small incorporated businesses.

Note: If taken as a compulsory course, it is JURD7224 (6 UOC).
Recommended Prior Knowledge

This course builds on prior learning in your JD degree. For example, you will see how constitutional law has determined the current shape of the Corporations Act. You will also see the interaction between corporate law with criminal law, contract law and equity. Therefore, courses in Public Law, Federal Constitutional Law, Torts, Contract Law I & II, and Property, Equity & Trusts I & II all have relevance for understanding the regulation of the corporation under Australian law.
Course Objectives

Students undertaking this course will:
Develop a functioning and contextual knowledge of corporate law theory and doctrine
Gain intellectual skills of corporate legal problem-solving, critical reflection about corporate laws and their limitations, analysis of corporate legal texts and documents, and an ability to make informed judgments about current events and legal issues involving corporations and their stakeholders
Engage in scholarly research about any issue of corporate law of your choosing
Develop written and oral skills through the oral and written assessment tasks
Develop a heightened understanding of the role corporations play in society and the economy and be able to reflect on what constitutes the most appropriate way to regulate corporate conduct
Main Topics

Introductory themes: Introductory stakeholder analysis; regulatory goals and approaches; regulatory environment
Corporate existence: Bringing a company into existence; bringing a company to a close
Corporate decision making: Introduction; the Board of Directors; general meeting of shareholders
Corporate personality: General principles; implications for tort and criminal law; implications for contract law
Corporate Governance: Introduction to corporate governance theory and issues; introduction to Directors' duties and shareholder remedies
Corporate Governance: Directors' duties; shareholder remedies
Conclusion: Corporate groups
Assessment

Compulsory:
Class participation
10%
Open-book exam
40-50% depending on choice of progressive assessment option
Open-book Week 5 test

20%

And either:

Optional class test; or

Research essay

20%

30%
Course Texts

Paul Redmond, Companies and Securities Law: Commentary and Materials (4th edition, LBC Information Service, 2005)
Corporations Act 2008 - available in the following formats: Butterworths Australian Corporations Legislation, or; CCH, Australian Corporations and Securities Legislation, or; Lawbook Company, Corporations Legislation 2008
Supplementary set of reading materials
Resources

Refer to Course Outline provided by lecturer.