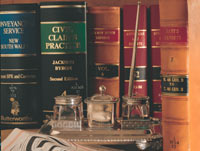 Description

The Internet is the focus through which this course studies information technology law. The topics in the course cover the most pervasive and general forms of regulation that can affect most types oftransactions, publications and other interactions in cyberspace. The general notions of 'Internet governance' and the 'constitution of cyberspace' are developed through a focus on various issues. This subject is primarily on 'the law as it applies to computers and networks', rather than 'computer applications to law'. The legal content of the course is based on the law of Australia (particularly New South Wales), considered in its international context. The law of other jurisdictions is used to explore potential developments in Australian law. The international nature of cyberspace also requires consistent attention to both the effectiveness of purely domestic laws, and to the development of international standards and the extent to which Australian law adheres to those international standards. The development of private international law methods of resolving cyberspace law conflicts with multi-jurisdictional elements is also covered.
LLM Specialisation

Media, Communications and IT Law
Recommended Prior Knowledge

None
Course Objectives

To examine whether and to what extent computing and data communications technologies are giving rise to a distinctive new field of law (increasingly called 'cyberspace law') and to attempt to identify the subject matter, legal concepts and analytic techniques which are particular to such a field
To provide a reasonably comprehensive survey of the main aspects of internet governance relevant to Australia, with comparisons to other countries where relevant
To facilitate an understanding of the interaction between the overall legal and social contexts of cyberspace
To facilitate an appreciation of the increasing inter-relationship between domestic laws and international standards in this field
To provide any opportunity for more in-depth understanding of particular aspects of information technology law, depending on individual interests
Main Topics

Introduction to the course and research skills
Structure and nature of the internet / cyberspace
Internet access: Restrictions on users and providers
Domain names (Case study of internet access and regulation)
Theories of the regulation of cyberspace
Encryption and PKI (I) - Attempts to control uses of encryption
Encryption and PKI (II) - Digital signatures and Electronic transactions legislation
'Borderless' cyberspace - Jurisdiction and conflict of laws
'eSecurity': Computer crime, cyber-terrorism and investigation
Assessment

| | | |
| --- | --- | --- |
| Class participation | Preparation and engagement in class and e-mail discussions | 10% |
| Take-home assignment | 3,000 words (max.) | 50% |
| Research essay | 3,000 words (max.) | 40% |
Course Texts

Prescribed
The hypertext Reading Guides and the documents on the web linked from them will constitute the required reading.
Recommended
The following casebooks are recommended to supplement the web-based Reading Guides, but are not compulsory (Fitzgerald is a much more substantial book than Lim, and is preferable):
B Fitzgerald and A Fitzgerald (Eds) Cyberlaw - cases and materials on the internet, digital intellectual property and electronic commerce (Butterworths, 2002)
YF Lim, Cyberspace law - commentaries and materials, (oxford, 2002)
Resources

Refer to Reading Guides.