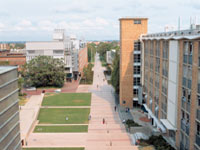 Description

This course provides a detailed consideration of areas relevant to the operation of consumer protection law in Australia. Australia's consumer protection law is primarily contained in Parts IVA, IVB, V and VA of the Trade Practices Act 1974 (Cth) ("TPA"), and the mirror state Fair Trading Acts ("FTA"). The course will also consider other relevant State statutes and procedures. The course focuses on Australian law, but also refers to important comparative decisions of other courts where relevant.
Recommended Prior Knowledge

There is no pre-requisite for this course, however the course has a relationship with other subjects such as Contracts, Trade Practices Law and Commercial and Consumer Sales.
Course Objectives

At the conclusion of the course you should be able to:
Understand the need for consumer protection laws
Discuss the theory behind and the law relating to the different concepts and definitions of "consumer"
Understand the scope of the prohibition on misleading or deceptive conduct
Determine the application of consumer protection laws to particular conduct
Understand the relationship between the different laws relating to consumer protection
Determine the best legal approach to dealing with particular conduct
Understand the role of the ACCC and the powers which it has under the TPA to enforce
Prepare a strategic response to ACCC action against your client
Understand the remedies available to private litigants and when they might apply
By participation in class and completion of written examinations, develop communication skills in arguing a case for a consumer or a business in relation to the TPA and other relevant laws
Once you have successfully completed the course you will have an understanding of the various areas of law. You will be able to apply the law to factual situations and understand how it applies to corporations on a day to day basis.
Main Topics

The course covers topics such as:
The theory behind consumer protection laws, including various concepts of "consumer"
The consumer protection provisions of the TPA
Detailed consideration of misleading or deceptive conduct
Misrepresentation under the TPA
Other unfair trade practices such as pyramid selling, debt collection practices, bait advertising
Regulation of financial products and services
Unconscionable and unfair conduct
Codes of conduct
Product liability
Enforcement and remedies under the TPA
Consumer credit
Packaging and labelling
Occupational licensing
Advertising self regulation
Consumer claims processes
Impact of other laws on contract and tort
Assessment

| | | |
| --- | --- | --- |
| Optional class participation | | 10% (optional) |
| Compulsory mid-session examination | | 50% (45% if class participation also chosen) |
| Compulsory final examination | | 50% (45% if class participation also chosen) |
Course Texts

Clarke and Corones, Consumer Protection and Product Liability Law Commentary and Materials, Lawbook Co, 2nd Edition 2002 ("C & C")
Extracts from the Trade Practices Act 1974. Published by CCH, and in annotated versions by Law Book Company, 2006 (Steinwall) or Butterworths, 2006 (Miller)
Recommended
Refer to Course Outline provided by lecturer.
Resources

Refer to Course Outline provided by lecturer.