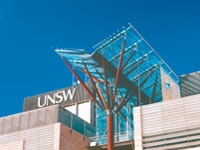 | | | |
| --- | --- | --- |
| | | |
| | | |
| | | |
| | | |
| | Campus: Kensington Campus | |
| | Career: Postgraduate | |
| | Units of Credit: 6 | |
| | | |
| | Indicative Contact Hours per Week: 4 | |
| | Enrolment Requirements: | |
| | Prerequisite: LAWS1001 and LAWS1011 and Corequisite: LAWS2311; Prerequisite: JURD7101 and JURD7111 and Corequisite: JURD7211 | |
| | Excluded: LAWS3133 | |
| | | |
| | | |
| | | |
Description

The Law of Banking provides an introduction to relevant legal principles and to aspects of the practice of banking. The course is concerned directly with the relation of banker and customer and with contemporary transactional techniques.

Central to a traditional view of the subject are the rights and duties of bankers and customers, generally, and in relation to the issuing and presentation of cheques. This course will address bills of exchange, as a foundational financial instrument, but not cheques which are declining in importance. It also addresses the more important contemporary banking instruments and transactions, such as syndicated lending, derivatives, project finance, and asset securitisation.
Recommended Prior Knowledge

No expertise is required beyond that in compulsory law subjects: Contracts and Torts will be found to be of particular relevance.
Course Objectives

The objectives of the course are to acquaint students with the rationale for competition law, and give them an understanding of key statutory provisions and case law to provide practical understanding of competition law and policy.
Students will be required to develop sufficient working understanding of the areas of law to which they are introduced to be able to advise in the resolution of problems and the planning of strategies.
Main Topics

The Australian Banking System, Prudential Supervision and Capital Adequacy
The Constitutional Basis of Federal Banking Regulation
Types of Lending
The Concept of Security and Common Forms of Security: Pledge, Lien, Legal Mortgage, Equitable Charge, etc, plus the law of legal and equitable assignment
Bills of exchange
Banker-Customer Duties
The Current Account
Syndicated Loans, with a focus on the conflicts in the role of the Agent Bank
Loan sales: the law of novation, assignment and participation
Project Finance
Asset securitization
Derivatives
Letter of Credit Law: commercial and standby credits and the Uniform Customs & Practice for Documentary Credits, and the Fraud Rule in Commercial and Standby Credits
High Finance
Assessment

Class participation
10%
Research Essay
40%
Final examination
50%
Note: Students will be given the option of not submitting a research essay and instead sitting a final examination which counts towards 90% of the assessment.
Course Texts

McCracken & Everett, Banking and Financial Institutions Law, 7th edn, Thomson, 2009
Recommended
Refer to Course Outline provided by lecturer.