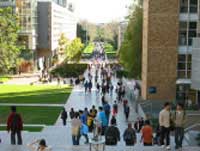 | | | |
| --- | --- | --- |
| | | |
| | | |
| | | |
| | | |
| | Campus: Kensington Campus | |
| | Career: Postgraduate | |
| | Units of Credit: 6 | |
| | | |
| | Indicative Contact Hours per Week: 3 | |
| | Enrolment Requirements: | |
| | Prerequisite: LAWS1071 & LAWS1072. Co-requisite: LAWS2311. Prerequisite:JURD7171 & JURD7172. Co-requisite: JURD7211. | |
| | Excluded: LAWS3025 | |
| | | |
| | | |
| | | |
Description

This course deals in depth with a selection of topics in relation to the conditionality, performance, breach and termination of contracts which are very important in commercial practice, but are necessarily dealt with briefly in the initial courses JURD7171 Contracts 1 and JURD7172 Contracts 2. In particular the course considers the contingency of conditions, the dependency of promises, fundamental breach, repudiation, the right to terminate and the consequences of termination. Economic duress may also be covered if time permits.
Assessment

Class participation (20% optional)
Mid-session essay (40% optional)
Final exam (40%, or 60%, 80% or 100% depending on whether the abovementioned options are taken)
Course Texts

Prescribed
Heffey, Patterson and Robertson, Contract, Cases and Materials Chapters 15-20
Recommended
Supplementary Materials will be distributed by UNSW Law School at first seminar.