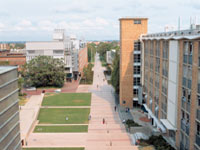 | | | |
| --- | --- | --- |
| | | |
| | | |
| | | |
| | | |
| | Campus: Kensington Campus | |
| | Career: Postgraduate | |
| | Units of Credit: 6 | |
| | | |
| | Indicative Contact Hours per Week: 0 | |
| | Enrolment Requirements: | |
| | Prerequisite: LAWS2311 Lit1, LAWS2321 Lit2 Prerequisite: JURD7211 Lit1, JURD7221 Lit2 | |
| | Excluded: LAWS3123 | |
| | | |
| | | |
| | | |
Description

SHANGHAI SUMMER SCHOOL – July 2010
This subject provides students with an introduction into the legal system and culture of the People's Republic of China with particular reference to modern developments in contract, investment and other areas of commercial law. China opened up its economy to market forces barely thirty years ago. When it did so, law and the legal system lost the pariah role under which they had been cast during the Proletarian Cultural Revolution. The course examines the role law is playing in modern China by reference to its historical antecedents. The course examines particular areas of development for their own sake but also as indicators of the changing role of law in the Chinese society.

In addition to classroom teaching, there will be field trips to Chinese legal institutions including the Great Hall of the People (the equivalent of the Australian Parliament House), a Chinese court and a Chinese law firm. There will also be some travel activities organised to sites such as the Great Wall, the Forbidden City, the Summer Palace, the Sacred Road, the Temple of Heaven and the Yonghe Lamasery.
Recommended Prior Knowledge

None
Course Objectives

To provide students with the general knowledge of the legal system of the People's Republic of China in particular in the areas of foreign-related commercial law
To introduce students to a basic working knowledge of some of the legal institutions and the legal culture of the People's Republic of China
To provide students with an excellent chance to get the first hand knowledge of one of the largest trading partners of Australia in today globalised world
Main Topics

Elements and institutions of the Chinese legal system
Constitutional law
Contract law
Intellectual property law
Foreign investment law
Corporate and securities law
Foreign trade law
Mediation, arbitration and civil enforcement procedures
Assessment

This subject will be assessed on a graded basis by a research paper of 4,000 words including footnotes.
Students are required to attend 100% of the classes to qualify for the submission of the research paper.
Course Texts

Prescribed
None
Recommended
None
Teaching materials may be provided by the Chinese professors teaching the subject in due course.
Resources

Refer to the course outline which will be provided by the lecturer at the beginning of the relevant semester.