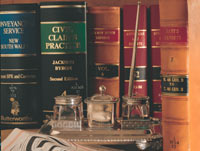 Description

The Program affords students the opportunity to work in one of the nine specialist Centres that are affiliated with UNSW and based on its Kensington campus. The principal goal of the Program is to provide students with training and practical experience in research, writing and advocacy on aspects of policy and practice relating to social justice (especially the reduction of inequality and exploitation).

Each successful applicant for participation in the Program is allocated as an intern to a particular "host Centre" at the outset of the session. In some instances, however, it may be agreed that they will transfer subsequently to another Centre for part of that session.

Interns are required to attend at their host Centre for the equivalent of one day each week over the session, and to undertake additional work in libraries and elsewhere on a flexible basis arranged individually with each intern.

Interns are also required to attend a two-hour Tuesday seminar (4-6pm) in 4 weeks of each session. The first two sessions comprise presentations by Centre supervisors and the last two are presentations by interns.
Recommended Prior Knowledge

Open to UNSW LLB students who have completed all, or the majority of core courses. Priority will be given to students in their final or penultimate year of study who have not previously completed an intern program. It is permissible to apply for both a Social Justice Internship (JURD7307) and a Public Interest Internship (JURD7308) but not to be concurrently enrolled in two internships in the same session. Internships cannot be taken in the same session as the student is completing one of the three Clinical Legal Education courses offered by the Kingsford Legal Centre.
Course Objectives

At the end of this course, students should:
Have developed an appreciation for the professional and personal responsibilities associated with the practice of law
Have observed and participated in a high level of problem solving flowing from the development of policy or legal practice
Have developed the skills to evaluate the impact of law on individuals, communities and the Australian society as a whole
Communicate effectively, in speaking and in writing
Main Topics

The Program provides formal and informal training, as well as supervised practical experience, in planning and implementing key aspects of research, writing, advocacy and related activities. These key aspects include:
Conducting research
Preparing or editing written material (e.g., research, issues or briefing papers; parliamentary submissions; formal legal documents; articles; submissions; web resources; newsletters; journals etc)
Developing and utilising networks of organisations and individuals
Organising and conducting interviews, delegations, seminars, media conferences and other meetings
Preparing speeches or other oral presentations
Assessment

Assessment is usually based on the following, but alternative forms of assessment may be adopted by individual Centre directors, subject to prior approval by the program coordinator:
A weekly reflective journal of 1-2 pages on activities undertaken during the Program (20%)
A portfolio of written material in the form of substantial research or briefing papers, submissions, articles etc totalling at least 3,000 words (in addition to the reflective notes) (30%)
An oral presentation of 10-15 minutes to fellow interns about aspects of the presenter's internship (20%)
Overall performance of the student, including the class Presentation and one or two evaluation interviews between the Centre Director and the student (30%)
Satisfactory attendance at the host Centre and at Program Seminars
Course Texts

Recommended
A number of resources will be made available on WebCT for this course including the course outline, reading materials and information related to the administration of the internship.
Resources

A number of resources will be made available on WebCT for this course including the course outline, reading materials and information related to the administration of the internship.