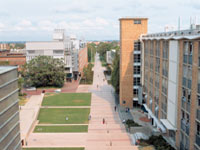 Description

This course comprises the first half of the course JURD7300 Sentencing: Law, Policy and Practice. This segment of the course is a stand alone half course.
LLM Specialisation

Criminal Justice and Criminology.
Recommended Prior Knowledge

None
Course Objectives

Introduce the general principles of Australian sentencing law
Develop the capacity to analyse and criticise legal arguments regarding sentencing in Australia
Main Topics

The jurisprudence regulating the individual sentencing discretion
The principles governing the adjustment of the outcome of the sentencing decision in response to features of the broader sentencing system
Assessment

| | | |
| --- | --- | --- |
| Written assignment | At least 2,500 words | 100% |
Course Texts

Prescribed
There is no set text for the course. Rather, all the required reading for the course will be contained in one book of materials. You will be advised when this book is available. (The book should be available about two weeks before the first class.)
Recommended
Arie Freiberg and Karen Gelb (eds) Penal Populism, Sentencing Councils and Sentencing Policy, Hawkins Press, 2008
Resources

Refer to course outline provided at the beginning of session.