Economics / Arts - 3574
Program Summary
Faculty: UNSW Business School
Contact: UNSW Business School Student Centre
Campus: Sydney
Career: Undergraduate
Typical Duration: 4 Years

Typical UOC Per Semester: 24
Min UOC Per Semester: 6
Max UOC Per Semester: 24
Min UOC For Award: 192
UAC Code: 424450
Domestic Entry Requirements: See Domestic Entry Requirements
International Entry Requirements: See International Entry Requirements
Award(s):
Bachelor of Arts
Bachelor of Arts (Major)
Bachelor of Economics
Bachelor of Economics (Major)
View program information for previous years
Program Description
The handbook provides you with information on the degree structure you would need to follow for the year you commence your study.

If you are a prospective student researching your study options, please visit UNSW Business School website for more information.
The UNSW Business School, in conjunction with UNSW Arts & Social Sciences, offers the
Bachelor of Economics/Bachelor of Arts
(BEc/BA) as a 4 year dual program which combines the strengths and flexibility of each single degree. This program will appeal to students wanting a strong, focused and highly regarded business program that is complemented by a second degree in Humanities, Social Sciences and the Creative and Performing Arts - chosen out of personal interest or with a particular career objective in mind.
With approval, students with an excellent academic record may also enrol in an additional Honours year in the Bachelor of Economics degree or in the Bachelor of Arts degree.
For detailed information on the professional recognition this degree offers please visit
Professional Recognition of Programs
in the UNSW Online Handbook.
If you are a current student, this new program structure does not apply to you. You should always follow the program requirements according to the year you started your degree. For more information please visit
Previous UNSW Online Handbooks.
Program Objectives and Graduate Attributes
On successful completion of the BEc, students will have the ability to:
demonstrate understanding and application of economic concepts and processes
demonstrate critical thinking and problem solving skills
understand, analyse and use quantitative data to assist in making economic and business decisions
present complex issues in coherent written statements and oral presentations
demonstrate understanding of the global economic context in which business and governments operate
understand the social and ethical dimensions in their chosen disciplinary areas
The program objectives of the BA are:
To develop informed understanding of human experience, human culture and human society
To teach the tools and methods of understanding associated with Humanities and Social Science disciplines, and to encourage students to perceive the relationships between these disciplines
To encourage the breadth of vision and critical thinking associated with interdisciplinary scholarship and research
To enable students to place contemporary Australian society and culture in an historical and comparative context
To engage critically with fundamental questions about value in both ethical and aesthetic contexts
To develop the skills of critical, creative and imaginative thinking about society, culture and the arts
To promote the techniques and value of reasoned and open-minded discussion and debate
To foster understanding of the experiences and world-views of other times, other places, and other cultures.
Program Structure
The requirements of the Bachelor of Economics in dual mode (96UOC):
BEc Dual Mode 96 UOC

Compulsory Economics course (6 UOC)

Economics Major requirements (60 UOC)


Economics Electives (12 UOC)

UNSW Business School First-Year Elective (6 UOC)

UNSW Business School Electives (12 UOC)

Economics Requirements:
Students are required to complete at least 13 Economics courses including:
Business School Requirements:
Students are required to complete 3 Business School courses:

At least 2 additional Business School elective courses (12 UOC)
Course Substitution Options:
There are courses in the School of Mathematics and Statistics (Faculty of Science) and the School of Actuarial Studies (Business School) that are alternatives for the quantitative methods courses in Economics: ECON1202 and ECON1203. Therefore:
Any one of the following courses is an acceptable substitute for ECON1202: MATH1031 or MATH1131 or MATH1141 or MATH1151.
Any one of the following courses is an acceptable substitute for ECON1203: MATH1041 or MATH2089 or MATH2099 or MATH2801 or MATH2841 or MATH2901 or ACTL2002 or ACTL2131.
If you complete the sequence MATH1131/MATH1231 or MATH1141/MATH1241 or MATH1151/MATH1251 you may use this as a substitute for the sequence ECON1202/ECON1203.
These substitutes for the compulsory core courses count towards the 16 Business School courses (96 UOC) required for the degree.

Note: ECON1202 and ECON1203 may not be good substitutes for the indicated MATH and ACTL courses depending on your program. You should check with your program authority regarding course substitutions.


The requirements for the BA in dual mode (96 UOC):
A home major stream (60 UOC)
A minor stream (24 UOC)
Arts and Social Sciences Prescribed Electives (12 UOC)
Details of majors and minors available, and the Prescribed Faculty Elective, can be found on the 3409 Bachelor of Arts
3409 Bachelor of Arts program
page.
Majors

Asian Studies

Chinese Studies

Advanced Chinese Studies

Development Studies

Criminology

Creative Writing

English

Environmental Humanities

European Studies

Film Studies

French Studies

Advanced French Studies

German Studies

History

Indigenous Studies

International Relations

Japanese Studies

Advanced Japanese Studies

Korean Studies

Advanced Korean Studies

Linguistics

Media, Culture and Technology

Music Studies

Music Studies (Intensive)

Philosophy

Politics

Sociology and Anthropology

Spanish and Latin American Studies

Theatre and Performance Studies

Minors - 24 UOC from any of the majors listed or from the following "Designated Minors" and External Minors

Art History and Theory

Arts and Social Sciences

Australian Studies

Modern Greek Studies

Indonesian Studies

Italian Studies

Studies in Psychology

Women's and Gender Studies
Optional External Major and Minor Streams
External Minors are Streams of study offered by other Faculties.
If you are enrolled in a dual award program, you cannot complete a minor stream in the same Faculty as your second program of study. Therefore the only external minors available in BA component of this dual program are:
ARTHB2 - Art History and Theory (24 UOC)
PSYCB2 - Studies in Psychology (24 UOC)
Language Studies for Commencing Mid-Year Students
If your language skills are assessed as Level A in Introductory, Intermediate, Advanced or Professional you cannot commence study until Semester 1.


Award with Distinction
You are eligible for the award of your Pass Degree "with Distinction" if you achieve a Weighted Average Mark (WAM) of at least 75 in all courses and complete at least 50% of the requirements of your award at UNSW.
Honours
After completing 192 UOC including all the requirements of the Bachelor of Economics component of this dual degree, high achieving students should consider applying to the Honours program BEc (Hons) 4502. For information on Honours in Economics refer to the School of Economics Honours information page
the Honours program BEc (Hons)
.
After completion of 192 UOC including all of the requirements of the Bachelor of Arts dual degree, high achieving students may apply for admission to the
Bachelor of Media (Honours) program 4504
. Entry to Honours requires a WAM of 70 or higher in the stream(s) seeking to be further studied.
Academic Rules
Rules relating to the Bachelor of Economics in dual mode:
Please refer to the Program Structure for the academic requirements relating to this program. Rules relating to the award of the degree of Bachelor of Economics shall apply wherever relevant. Students are advised to consult the Academic Rules for further information.


Academic Rules relating to the Bachelor of Arts (BA) in dual mode component
To qualify for the award of the degree at Pass level, a student must:

1. complete 96 units of credit in the Bachelor of Arts;
2. complete the requirements for one 60 UOC home major stream
3. complete the requirements for one 24 UOC minor stream
4. complete 12 UOC of Arts and Social Sciences Prescribed Electives
5. complete at least 30 UOC of Level 1 courses before enrolling in Level 2 courses
6. specify your major/minor at the time of enrolment into Level 2
7. complete at least 48 UOC, including 6 UOC at Level 1 and 6 UOC at Level 2 in your major/minor, before enrolling in Level 3 courses.
Fees
For information regarding fees for UNSW programs, please refer to the following website:
UNSW Fee Website.
Professional Recognition
For further information, refer to the Professional Recognition of Programs in the UNSW Online Handbook.
Further Information
Area(s) of Specialisation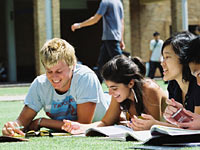 &nbsp