Engineering (Honours) - 3707
Program Summary
Faculty: Faculty of Engineering
Contact: Faculty
Campus: Sydney
Career: Undergraduate
Typical Duration: 4 Years

Typical UOC Per Semester: 24
Min UOC Per Semester: 6
Max UOC Per Semester: 24
Min UOC For Award: 192
UAC Code: 425000
Domestic Entry Requirements: See Domestic Entry Requirements
International Entry Requirements: See International Entry Requirements
Award(s):
Bachelor of Engineering (Honours)
View program information for previous years
Program Description
The UNSW Bachelor of Engineering (Honours) is designed to equip you for a career as a professional engineer. We provide you with a solid background in mathematics, natural sciences and computing that will prepare you for learning knowledge and skills in an engineering discipline specialisation. You will get the chance to apply yourself to engineering design and enquiry projects, professional engineering practice, engineering and technical management and conduct research towards your thesis project.

The four year program is offered in 19 engineering disciplines:
Undeclared (for students who have not yet decided which discipline of Engineering they wish to pursue)
PLUS

A flexible first year engineering stream is offered for students who wish to study engineering but choose to delay their choice of which branch of engineering to study until the end of Year 1.
Program Objectives and Graduate Attributes
Program Structure
168 UOC courses from stream +
12 UOC General Education courses +
12 UOC Electives*
* Courses to be taken from Professional Elective List specified by individual stream.
Academic Rules
Fees
For information regarding fees for UNSW programs, please refer to the following website:
UNSW Fee Website.
Area(s) of Specialisation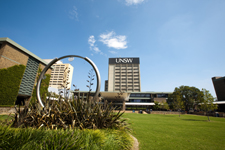 &nbsp