Arts & Social Sciences (Hons) - 4504
Program Summary
Faculty: Faculty of Arts and Social Sciences
Contact: arts@unsw.edu.au
Campus: Sydney
Career: Undergraduate
Typical Duration: 1 Years

Typical UOC Per Semester: 24
Min UOC Per Semester: 6
Max UOC Per Semester: 24
Min UOC For Award: 48
Domestic Entry Requirements: See Domestic Entry Requirements
International Entry Requirements: See International Entry Requirements
Award(s):
Bachelor of Arts and Social Sciences (Honours)
View program information for previous years
Program Description
The Bachelor of Arts and Social Sciences (Honours) is a 48 UOC (one year equivalent) advanced undergraduate degree for high achieving students which may be taken upon completion of an undergraduate pass degree in Arts, International Studies or Social Research and Policy. A student undertaking this program will normally complete honours within their chosen major stream of study in their pass degree. The focus of Honours year is on the further development of analytical and research skills, deepening of knowledge, and application of methods that are specific to students' chosen (major) discipline of study. The program may be a pathway into a graduate research degree (MA Research; PhD). The BASS (Hons) may be completed full-time or part-time.
Program Objectives and Graduate Attributes
Program Objectives
The aims of the BASS (Hons) are:
To further develop the disciplinary skills acquired by students in their major stream of study (AQF Level 7). In particular, to inculcate higher-order research skills in critical thinking, reflection and analysis.
To understand relevant disciplinary methods and approaches and their assumptions, and to apply them in research.
To deepen disciplinary-specific knowledge and to understand its theoretical frameworks and contexts of application. To apply such knowledge while considering, where appropriate, interdisciplinary perspectives, historical and comparative frameworks, and world-views of other times, places, and cultures.
To appreciate the place of ethics in private and public life and to interrogate disciplinary frameworks, assumptions and processes in light of ethical values.
Learning Outcomes
The Program-Level Learning Outcomes for the BASS (Hons) are as follows:
Demonstrate coherent and advanced knowledge of the underlying principles and concepts in one or more disciplines, and knowledge of research principles and methods
Demonstrate cognitive skills that review, analyse, consolidate and synthesize knowledge
Identify and formulate solutions to complex problems with intellectual independence
Demonstrate a broad understanding of a body of knowledge and theoretical concepts with advanced understanding in some areas
Demonstrate an ability to adapt knowledge and skills in diverse contexts
Demonstrate initiative and judgement in scholarship
Demonstrate responsibility and accountability for own learning and practice and in collaboration with others within broad parameters
Demonstrate communication skills to present a clear and coherent exposition of knowledge and ideas to a variety of audiences
Construct a research project that demonstrates technical skills in research and design
Construct a research project that demonstrates critical thinking and judgement in developing new understanding
Program Structure
The basic requirements for the degree are:
Coursework (18 UOC)
Thesis/research project (30 UOC)
Stream Specialisations
Honours is available in the following stream specialisations:
Honours Mark and Classes of Honours
The Honours mark for the awarding of the class of Honours is based on all components of the program. It will be determined from the student's weighted average mark for all of the courses (coursework and thesis/research project).
Honours will be awarded in the following classes, based on the student's WAM rounded to the nearest whole number:
Class 1: WAM of 85 and above
Class 2 Division 1: WAM of 75 to 84
Class 2 Division 2: WAM of 65 to 74
Class 3: WAM of 50 to 64
Entry Requirements
Students must have completed the UNSW Bachelor of Arts, Bachelor of International Studies or Bachelor of Social Research and Policy or other recognised Level 7 qualification with a major in a stream offered in the program. Students in a dual degree must have completed 144 UOC including all requirements for the Arts, International Studies or Social Research and Policy component. Entry to Honours requires a WAM of 70 or higher (or equivalent) in the stream(s) seeking to be further studied. It is subject to resources and the approval of the Head of School in which the stream(s) is/are based.
The conferral of the honours degree for dual degree students is subject to students completing all requirements of the dual degree. Students who subsequently withdraw from their dual degree after the completion of honours will only be conferred the honours degree if they have met all requirements for the single degree.
How to Apply
Students intending to apply to the Honours program must first discuss their eligibility and study program with the Honours Convenor in the relevant school prior to submitting an application.
Domestic Applicants
Internal domestic applicants must complete the UNSW Arts and Social Sciences Honours Application form available from the
Faculty website
and submit it to the UNSW Arts and Social Sciences Student Centre.
External domestic applicants must complete the
UNSW Honours Application form
and submit it to the UNSW Admissions Office.
International Applicants
Internal international applicants must complete the UNSW Arts and Social Sciences Honours Application form available from the
Faculty website
and submit it to the UNSW Arts and Social Sciences Student Centre.
External international applicants must apply directly through the
UNSW Apply Online service
.
Academic Rules
To qualify for the award of the degree a student must:
complete all requirements for the Honours program (48 UOC)
complete the coursework requirement for their area of study (18 UOC)
complete a research project or thesis (30 UOC)
Fees
For information regarding fees for UNSW programs, please refer to the following website:
UNSW Fee Website.
Important Information
The Academic Rules for the UNSW BASS (Hons) and the online enrolment facility provide students with a wide range of course choices. The online enrolment facility checks that students meet the enrolment requirements for individual courses but not that a course complies with Program Rules. Students are responsible for ensuring they are enrolling in accordance with the Academic Rules outlined above. Students should not assume that because they have enrolled in a course online that the course is automatically credited to their degree program.
Further Information
Contact the UNSW Arts and Social Sciences Student Centre for advice.
Tel: + 61 2 9385 2289
Email: arts@unsw.edu.au
Location: Room G1 Ground Floor, Morven Brown building (C20)
Opening Hours: Monday to Friday 9am - 5pm
Frequently asked questions
Glossary of Terms
Area(s) of Specialisation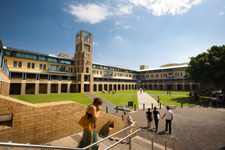 &nbsp