Food Science - 3065
Program Summary
Faculty: Faculty of Engineering
Contact: http://www.chse.unsw.edu.au/
Campus: Sydney
Career: Undergraduate
Typical Duration: 1 Years

Typical UOC Per Semester: 24
Min UOC Per Semester: 3
Max UOC Per Semester: 27
Min UOC For Award: 48
Domestic Entry Requirements: See Domestic Entry Requirements
International Entry Requirements: See International Entry Requirements
Award(s):
Bachelor of Science (Honours) (Major)
View program information for previous years
Program Description
THIS IS A ONE YEAR FULL-TIME HONOURS PROGRAM IN FOOD SCIENCE.

Students interested in the four year Food Science (Hons) program should see Program 3061
This program is designed to provide extensive research training in some aspects of Food Science and Technology at undergraduate level. The research orientation of the program, compared to the Graduate Diploma, facilitates entry into a research higher degree (MSc/PhD) upon completion of Honours at a satisfactory level.
Entry to the program requires satisfactory completion of a Bachelor degree, or equivalent, in an area considered relevant to Food Science and Technology. Students who have completed a four year Bachelor program, in which Honours has already been awarded, are specifically excluded.
The major component of the program is an extensive research project, conducted throughout one year of full-time study. Candidates also take 6 units of credit of courses within the School, or such other courses as approved by the program coordinator. Honours is awarded on the basis of performance in the research project and satisfactory completion of coursework.
Program Objectives and Graduate Attributes
Program Structure
Compulsory Courses
*Courses offered in Food Science and Technology or as approved by the program coordinator and dependent upon the background of the candidate. Units of credit for coursework courses may be concentrated in one session.
Academic Rules
Refer to program outline and structure.
Fees
For information regarding fees for UNSW programs, please refer to the following website:
UNSW Fee Website.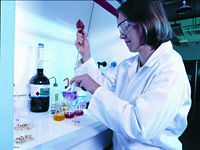 &nbsp