Physical Geography - GEOGH23566
Stream Summary
Stream Outline
Geography is the study of social and environmental relationships. The cultural significance of geography lies in its contribution to an understanding of the total environment. Geographers are employed as professionals in urban management, regional planning, and environmental assessment.
Stream Structure
A minor in Physical Geography is comprised of 36 UOC of courses as follows:
Stage 1
Stage 2 / Stage 3
Notes:
Students completing a Geography or Physical Geography major cannot complete this minor;
Not all GEOS3xxx courses run every year. Students should note this when planning their enrolment;
GEOS3xxx courses have assumed knowledge requirements which may affect choice of GEOS2xxx courses. Students should read the course descriptions in the Handbook carefully and plan their enrolment accordingly.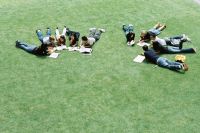 &nbsp