Business Economics - ECONF13784
Stream Summary
Stream Outline
A major in Business Economics consists of 48 UOC (8 courses). Two (2) of these courses are specified; the other six (6) are elective courses that are chosen from the lists below. This is regardless of whether you are doing a single major or taking Business Economics as a second major
A minor consists of 30 UOC (5 courses) containing ECON 1102, ECON 1202 and 18 UOC at level 2 or 3. The minor does not form part of the nominated major.
Stream Structure
Compulsory courses
Elective courses
Six courses from the lists below, including at least three Level 3 courses.
List of Level 2 courses
List of Level 3 courses
A minimum of three (3) electives must be completed from this List
ACCT3563 is included for the benefit of students undertaking majors in both Accounting and Business Economics to allow compliance with the requirements of the professional Accounting bodies. Students with majors in Accounting and Business Economics may count this course towards the Business Economics major AND the Accounting major.
Honours
Honours level study is available for Business Economics students.

Students interested in studying at Honours Level should refer to the relevant Honours stream record for entry requirements.
Further Information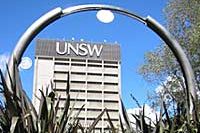 &nbsp