Women's and Gender Studies - WOMSB23948
Stream Summary
Stream Outline
THIS STREAM IS FOR STUDENTS COMMENCING FROM 2016.

The Women's and Gender Studies minor stream provides you the opportunity to develop an understanding of issues such as social constructions of gender (femininity and masculinity) and sexualities, contemporary feminist schools of thought, 'race', class and other markers of identity intersect with gender, and women's rights, issues and activism and developments in feminist theory, scholarly methodology and ethics.
Stream Structure
If you wish to gain a minor stream in Women's and Gender Studies you must complete 24 units of credit including 6 UOC at Level 1, at least 12 UOC at Level 2 and optionally up to 6 UOC at Level 3. If you complete 6 UOC at Level 1 and 18 UOC at level 2 you will have completed the minor.
Level 1

You must complete the following Level 1 core course:
Level 2

You must complete at least 12 UOC at Level 2:
The following courses from other subject areas can also be counted towards the Women's and Gender Studies minor stream:
Level 3

You may complete up to 6 UOC at Level 3
The following courses from other subject areas can also be counted towards the Women's and Gender Studies minor stream: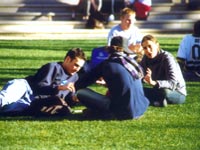 &nbsp